"Meat" Ya in Centennial Park
My favorite thing about today was that whenever someone asked me, "What have you been up to?", I got to respond with, "I went to a MEAT festival." They would stare at me blankly as if I'd said something so wrong. Or maybe just something SO RIGHT.
A week ago I found a blurb online about a gathering of local barbecue restaurants at Centennial Park, and my pulse accelerated. Not often does one get the opportunity to attend an event dedicated to the hard-core carnivores, if I'm not counting my dad's intense barbecue competitions back in Texas. I immediately bought an early-bird ticket for the event, "Meat Ya in Centennial Park", which advertised samplings from eateries including Flyte, The Row, Martin's Bar-B-Que, Cross Corner, Urban Grub, and Riffs Fine Street Food. I urged my roommate to do the same, as we are both the kind of gals that would choose a bigger-than-your-face burger over a dainty salad any day.
I met up with Mary Kate after church to print out our tickets using a VU Printer, and we scampered across West End for our lunch of champions. We followed our noses to the pavilion on the other side of the Parthenon, where rows of white tents housed the various barbecue restaurants and all-you-can-eat brisket, pork, and sausage.
We went…HAM.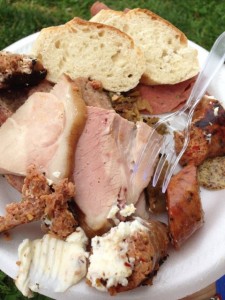 Fellow blogger Julianne met up with us, which was particularly exciting because she has been gone all semester doing service work at an orphanage in Guatemala! She ate piles of meat with us and made me try a vegetarian dish with sweet potatoes that wasn't disgusting, actually.
We witnessed this man cutting up a whole pig head, and that was terrifying: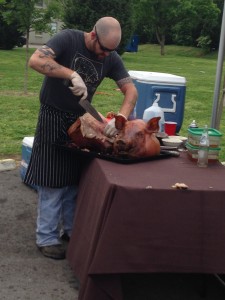 After waiting in a few lengthy lines for the more-popular cuts of pork, Mary Kate went back for more. Who could blame her? I sat back and enjoyed the musical stylings of a band called Bare Bones Trio, watching precious babies wobble to the beat and Nashvillians parade around their pampered dogs. It's a lovely time in Vandy Land, so I'm rather pumped to not be dealing with exams.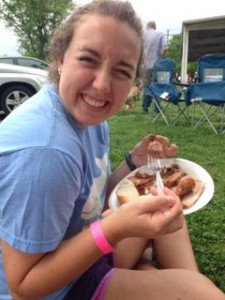 The great thing about Vanderbilt being positioned across from Centennial Park is that we Vandy students can take advantage of the fun concerts, festivals, food truck days, swing-dance gatherings, and events in the park when the weather is nice.
And if an event is centered around piles of fall-off-the-bone meat, you will definitely find me there.