Cheers from Chattanooga
It is sunny and windy and the perfect day to be outdoors!  A few weeks ago, the weather was exactly like this and we decided to take a day trip! The obvious choice was to visit Chattanooga, which happens to also be known as the Scenic City.
My friend A., who lives in Atlanta, didn't want to drive four hours to Nashville and I didn't want to bus it four hours to Atlanta, so we chose a halfway point: ChatChat, as I fondly call it.  My sister T. sent us a lovely list of fun places to visit, and the first stop was Tony's Pasta shop.  A. and I both feasted on warm bread dipped in cheese and oil and delicious pastas.  We then wandered outside the historic district, checking out the River Gallery, Sculpture Gallery, Bread Shop, and other cute little places along the beautiful river.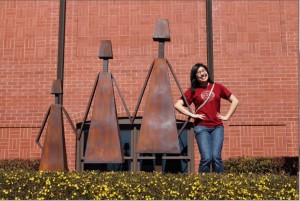 We then explored the area around the Hunter Museum of Art, where we got really friendly with the statues.  This led down some windy stairs to the river, where we sat and chatted about life and friends and family for quite a while.  We meandered around the downtown area, and one of the most surprising things we saw was a rock climbing wall on the side of the parking garage.  What.  So cool.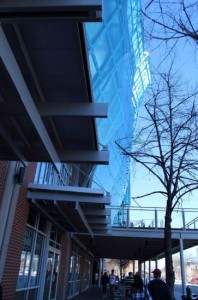 On the other side of the river was the tourist area, full of quaint little shops like Hillsboro Village and we bought this adorable journal for my sister. We visited a cute little donut shop, where I tried my very first cronut.  Speaking of other firsts, I rode my very own dinosaur on my very first merry-go-round with A.  Totes adorbs, I know.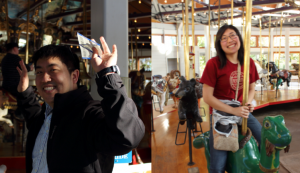 Did you know cardboard sledding was a thing?  Me neither.  But it exists, I promise.  In one of the gift shops, we had seen a picture of some kids sitting on a steep hill atop large, flattened boxes in a frame,but were thoroughly confused why that was amusing.  Well, a Chattanooga special.  We found three fantastic sledding hills on the edge of town, complete with many large, flattened cardboard boxes, so of course we took a ride down.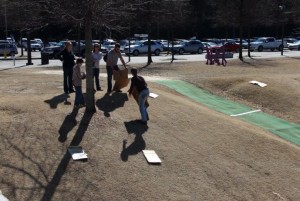 The end of the perfect day was a perfect meal.  Go to Food Works.  It is delicious and the portions are amazingly large and the service is so friendly.  We walked back to the car across the lighted pedestrian bridge, and sighed contentedly.
Visit Chattanooga at some point in your life.  The end.