Storytime Snippets
Hello friends!  Time to draft a list of everything blog-worthy that has happened in, oh say, the past two months that I haven't yet told you about.  Okay Ann.  Goal-setting time.  I'm going to tackle each one of these subjects and write about them.  Just one a week.  Doable.
Unveiling the Hijab: A very awesome event hosted by the Muslim Student Association.  A panel of five women told their story about why they don the hijab, which is the head scarf that Muslim women wear, and then had a Q and A time, answering audience questions.  Afterwards, we feasted on some delicious Malaysian food.

Young Alumni Trustee: It was very cool to have sat in on the Nominating Committee.  There were so many things that I learned about during this four-hour meeting, including the integrity of Vanderbilt, the diversity of student interests, and the demand for excellence.  Not too trifling.  The voting for this year's YAT was just sent out to the general student body, and we now have our new YAT representative!
Cheers from Chattanooga: This blog post is one that I've started and keep forgetting to finish.  If you ever want to take a day trip there, be not hesitant and head over because it is beautiful.  It's called the Scenic City because of its wonderful river and pedestrian bridge, the quaint tourist shops, the amazing food, and oh, there's just so much more.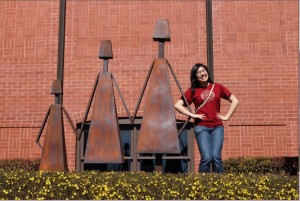 BCM Spring SPOTS: Oh boy oh boy I think this has been the best SPOTS trip I've been on.  Victoria, Sam, me, and the rest of the BCM crew trail-blazed west to Chicago.  We worked with the Uptown Baptist Church in restoring their facilities for homeless ministry, met with the Northwestern BCM and played ping-pong with their international students, spent our days with the Chinatown kids at the Pui Tak Christian school, and so many other great service projects.  We were also goofy and made this really fun music video.
Competitions Galore: Of course I have to make a Blair plug.  Vanderbilt's annual Concerto Competition took place in January, and the winners will be performing their winning piece with the Vanderbilt Orchestra in a few weeks.  And currently, I'm in Chicago with my pals M. & M. (sorry, I couldn't resist!), where we just competed in the MTNA National Chamber Music Competition.
So.  Many.  Stories.  And I can't wait to tell you about all of them!