Gathering a Drop of Water: A South Africa Summer
"What are the worst things you associate with South Africa?" he asked our circle of chairs.
"Poverty," we answered.
"Does the United States have poverty?" he replied.
Of course it does.
"What else?" Sherif asked.
"HIV/AIDS rates."
"Does the United States have HIV/AIDS?"
Yes.
"Apartheid."
"Does the United States have apartheid, or something like it?"
Yes, the U.S. had the Civil Rights movement.
As we continued to draw parallels between our "great nation" and the tip of Africa, I began wondering, "If these problems exist in the U.S., then why do I want to go to South Africa to solve them?"
This is why: my own education. I know very little about South Africa, let alone its history of apartheid and now, reconciliation.
Tonight was the beginning of this education. For the first seminar, our group of Vanderbilt students going to South Africa this June met with Clive Mentzel and Sherif Barsoum.
Clive is the director of OACS, the Office of Active Citizenship and Service. A native South African, Clive was involved with the negotiation process leading to a peaceful transition to democracy, and he conducts political science courses at Vanderbilt.
First, Clive outlined the history of apartheid, beginning with the founding of South Africa by the Dutch. In 1948, the National Party of the Afrikaners came to power, and began enacting a raft of apartheid legislation. Racism and apartheid became a way of life; for example, the Population Registration Act of 1950 defined people according to color (Black, White, Coloured, Indian), but not according to any scientific, objective criteria. People were defined according to the purposes of the white Afrikaners, resulting in a racist minority regime in South Africa until 1994. Even political prisoners were served different meals according to their color: For whites, stew with well-cooked chunks of beef or pork; for "coloured" or "Indian" people, a few pieces of fatty meat; and for blacks, a meatless porridge made of corn and beans.
Since Nelson Mandela's heroic achievements, the political pendulum has swung in the an opposite direction. This is an era of intense hope and progressiveness for South Africa. The country looks to build a better future through entrepreneurship and education.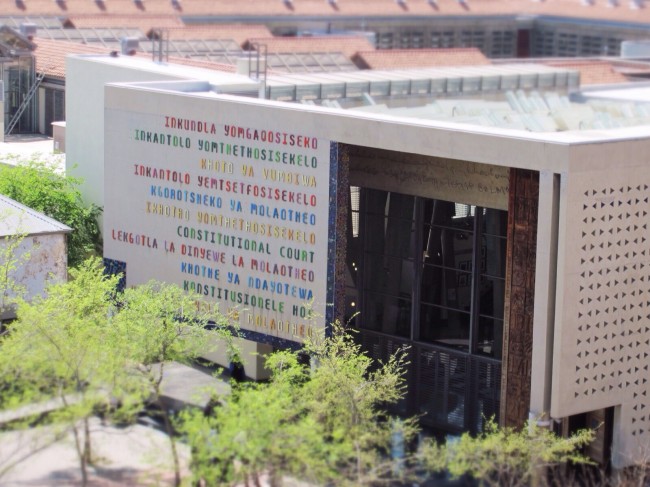 The Constitutional Court represents the 11 official languages of South Africa, symbolizing Mandela's legacy of reconciliation and the nature of the "new" South Africa.
Next, we heard from Sherif Barsoum, the leader of our trip to South Africa. Sherif is also the director of International Student & Scholar Services (ISSS). Originally from Egypt, Sherif loves traveling and living overseas. Immediately preceding our trip to ZA, he's leading a Maymester program in Morocco!
Our destination is Port Elizabeth. This city still represents physical segregation left over from apartheid. The white people live in lush suburbs, while the Missionvale township is home to almost exclusively black people. There is no running water, sewage system, or electricity, and in 2012, the township was ravaged by flooding. One of our team's project sites is the Missionvale Care Centre, which distributes food, clothing, and shoes to local residents.
How can we begin to tackle such a challenge? The 2011 recipient of Vanderbilt's Nichols-Chancellor's Medal and Nobel laureate Wangari Maathai, said that although Africa is on fire, we are like little birds carrying a drop of water each, and together, the OACS group is a bucket on the flames.
Over the next couple of months, I will continue to learn about the history, politics, and culture of South Africa, while also continuing to think critically about service and how to best experience my upcoming month overseas.