Bamboo!!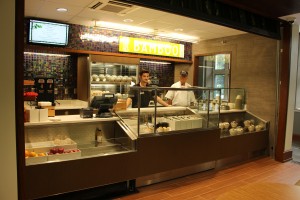 This past few weeks I have been terribly sick–sore throat, coughing up mucus, and all that gross stuff.  But my Godsend has definitely been one of the newer restaurants on our meal plan–Bamboo!  The workers there are so sweet, and their food is delicious!
I love going to get their pho, which is like a soup with rice noodles.  You get to decide what you put in it, but I always get peanuts, garlic, basil, chicken/beef, carrots, and kimchi. Kimchi is this delicious spicy cabbage which permeates the soup with its flavor.  After one cup of their soup (a meal plan entree), I am full and also my nasal passages are cleared–it's a win-win!  You can also get sandwiches and funky salads from there, although to be honest I've never tasted them because of my pho addiction! :)
The restaurant also serves bubble tea. Bubble tea!  Bubble tea!!!  I was so excited when I found out that bubble tea was on the card…it's one of my current obsessions, and Bamboo provides it in several delicious flavors.  At the moment, there's regular, mango, and blackberry.  Yum!  I don't know what it is, but the texture of the boba inside the tea just intrigues me to no end.  I could chew on those things all day long.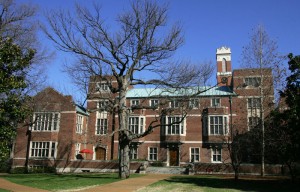 Last but not least, you can get a third side.  My favorite is their rice pudding.  It is the perfect soothing aftertaste to follow up the spicy kimchi.  They also have flan, fruit cups, and other whole fruits.  My second favorite side of choice would have to be their delicious pears.
There are a variety of delicious restaurants on meal plan, and even more if you branch out to our Taste of Nashville locations, but I love this one in particular!!  It's also a convenient pit-stop on the way back from the alumni gym.  The gym is MUCH smaller than the Student REC, but it's a perfect option if you live on main campus and don't have a long time to workout.  Elliptical, then bubble tea.  What doesn't sound great about that?
Until next time!