Winternship
Winternship is not the summation of win and internship, but rather WINTER and internship. Winter in Chicago is not for the faint of heart, and they really weren't kidding when they nicknamed this place the Windy City. The big question I have been getting recently is, "Why, again, did you decide to move to Chicago during the coldest season of the year?" They smirk. I stare at them blankly. I DON'T KNOW.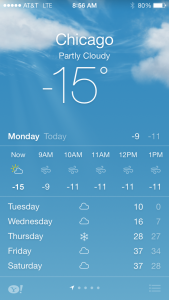 But really, though, if I can survive Chicago during a season when tears freeze on one's face (not mine, obviously), then I can survive in Chicago any time of the year, right? I am thinking about this semester as a test run for post-graduation, except for this semester I still have to go to class and I still don't know how to cook anything except spaghetti and tacos. Hopefully both of these things are no longer true in the second half of 2015.
Ridiculous weather aside, the Campus Recruiting internship at Deloitte is in full swing! I started on January 7th, so I suppose I have been here for 3ish weeks. You can tell that I am getting the hang of things because I can fix a paper jam in the printer, scan a huge stack of documents in under 5 minutes, and make myself a cup of hot chocolate in the coffee maker without even spilling. True progress. I have a snug little cubicle on the 11th floor of Deloitte's large, glassy building on Wacker Drive. For the first few days of my internship I didn't have an ID badge, which becomes a problem when you realize that you need one in order to have access to the restrooms. Rounding out week three, I now have a phone that rings, an ID featuring a not-ready photo of business casual Samantha, and a nameplate on my cubicle.
As part of the HOD Internship program I am currently completing, I have a supervisor in the department and a professor that I meet with once a week to turn in HOD deliverables and chat about my week at the internship. HOD class is a story of its own, so I will update you on that in an upcoming blog. My supervisor is swell because she meets with me to come up with projects I can do, and she introduced me to Fooda. Fooda is a magical program that Deloitte recently started, where local restaurants come in every day of the week to cater lunch. This is no normal catering program, because employees from the restaurants come out on their assigned day and present a shortened menu that Deloitte staff can choose from and can pay for with a credit card. This is perfect for days when I don't want to go out into the polar vortex. Ahem, every day. I am going to try to bring my lunch once a week, though, for good measure.
It seems like the most rewarding part of the job for campus recruiters at Deloitte is getting to know students at the universities who are interested in Deloitte. I have been able to attend a few events so far, including a women's leadership conference and a happy hour for the new Tax, Audit, and Advisory interns. Not only was it cool to see how all of the details I had been planning all week came together, but I also really appreciated the passed appetizers in the swanky Mexican restaurant where the happy hour was held. Tiny gourmet shrimp taco? Yes please, and could you bring out another tray of those mini empanadas?
The coordinators I have been working with have really opened my eyes to how crucial even the smallest tasks are in the grand scheme of things in recruiting. This is the attitude I choose to have during my stay here at Deloitte, as I change the world one correctly-spelled nametag at a time! Stay tuned in the next few months for more tales of me bonding with the inventory in the recruiting closet and fighting the copy machine.
-The Perpetual Intern