Oh My Finals Week!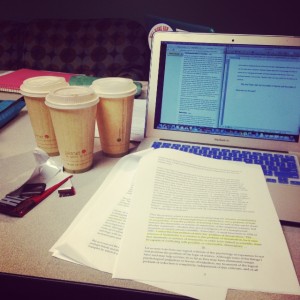 Oh my Finals Week!
This is perhaps the most stressful week in the history of my Vanderbilt experience,
and I'm loving it!
Wait, what?
I just submitted a huge philosophy term paper, I have an English final tomorrow, and another PoliSci final on Saturday that, admittedly, I do not yet feel prepared for.
However, I am having a really good week. There aren't classes this week since it's Dead Week (no new assignments, just study for your finals). So I have time to buckle down and focus purely on my tests.
Luckily for me, my finals are spread out enough that I have time for frequent breaks (drowning myself in caffeine), and lots of time for naps (or writing blog posts).
Basically, finals week is stressful, yes, but it's also very manageable.  There is a lot of free food on campus right now; the staff is incredibly nice because they know everyone is freaking out, and you can constantly see a large amount of people studying so that only encourages you to buckle down as well.
Guys, everything is okay. While my first semester at Vanderbilt has been a lot of adjusting, learning, and experiencing, finals week has been a nice time to gear up my motivation to truly take on next semester.
I know it sounds bizarre, but Finals Week is a great thing. The stakes are high, the espresso shots are bountiful, and my motivation is high! I can do this!