Food for Thought- A Dinner at The Cookery
In the week before Thanksgiving break, the course work and stress level get pretty high before a week of relaxation. Even though my friends and I had a lot work to get done, we went to a unique event off-campus. A new campus organization, called The Kefi Project, hosted an event at a local Nashville restaurant called The Cookery. The restaurant is located on 12th Avenue South and has a charming atmosphere. But there was much more to this place behind its homey ambience.
The Cookery is the brainchild of founders Brett Swayn and Terry Kemper. The restaurant provides a job for individuals of the homeless population while also providing them the opportunity to learn in a setting similar to a cooking school. In addition, a portion of the funds from the Cookery are donated to programs in the area that benefit the homeless.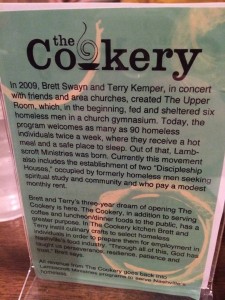 The event consisted of about thirty Vanderbilt students and seven representatives from the Safe Haven family shelter. This organization is the only shelter in Nashville that takes whole families that are struggling with homelessness and poverty. I got to sit down and eat dinner with three Vanderbilt students I had never met and the office manager from Safe Haven. She told us about her job and what she has experienced since working with Safe Haven. In addition to staff members, there were three women at the event who were previously homeless and shared their stories about how Safe Haven helped turn their lives around.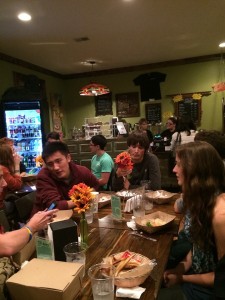 After spending last spring break working with the homeless population in Los Angeles, and spending my upcoming spring break working with homelessness and poverty in Detroit, getting to experience local initiatives to aid these populations in the Nashville area was very interesting and rewarding. I hope to become more involved in these issues at a local level. This event reminded me of the numerous opportunities available on and off campus, and of the amazing things you can find when you take a break from your usual schedule.