3W's, Kendrick Lamar, Gatlinburg and Getting Paid
With five days standing between me and the due date on my last final paper, it's safe to say that the question of where exactly this semester went is doing a pretty good job baffling me right now. Sitting in my kitchen with my mint tea and midnight snack looking back on my semester seems crazy (aside from the craziness of the fact that I'm currently in my kitchen in Willowbrook, IL, approximately 446 miles from my room in Branscomb, on DECEMBER 8TH ), but it's crazy in the best kind of way.
This semester has been full of fun and was without a doubt my best so far here at Vanderbilt. Between schoolwork, extracurriculars, and friends, it's hard to find a minute of the past four months that I haven't loved. So, in the spirit of giving, I've decided to give you guys the highlights of what this semester had to offer, and a fun lil' PicStitch to go along with it for your viewing pleasure: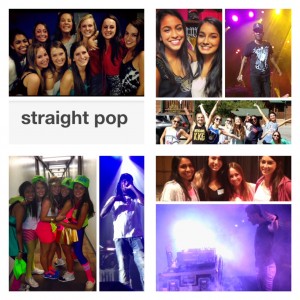 Extracurriculars
-On October 3rd VPB's Music Group hosted 2014 Grammy-nominee for Best New Artist, KENDRICK LAMAR, along with rap-superstar Wale for our annual Homecoming concert, Commodore Quake. Getting to pick them over the summer, watch their incredible sets up-close, and meet them backstage was INCREDIBLE. I don't think I'll ever not be starstruck by the artists we have for Quake andRites of Spring. Speaking of Rites, get those countdowns started because this year's lineup definitely won't disappoint (and I mean DEFINITELY—if you thought Kendrick and Wale were good, BRACE YOURSELVES!).
-In October I also got the chance to interview not one, not two, but THREE incredibly talented artists for the Vanderbilt Hustler. Between Ben Rector, 3LAU, and Stratus my articles practically wrote themselves (and I realized that it's JUST as possible to be starstruck over the phone as it is in person). I also got the chance to see a free Ben Folds concert at The Ryman, and cover it for the paper. Don't ask me how I manage to snag such cool assignments, I really couldn't tell you.
-I got a job! Well, it's more of a paid time/writing commitment and technically it hasn't started yet, but you're reading the words of the newest Senior Life Reporter for the Vanderbilt Hustler! Starting in January I'll be getting paid to generate a certain amount of content for the paper, and I couldn't be more excited to do more writing (and make a little cash doing it)!
Schoolwork
This semester blows my past two out of the water in terms of the classes I took. As promised, here's the list of classes I took and the phenomenal professors who teach them.
English 200- The Art of Blogging: Amanda Little
Film Studies 227W- Screenwriting: Jonathan Waters
Philosophy 100W: Amy McKiernan
Managerial Studies 194- Fundamentals of Management: Joe Rando
Financial Economics 140- Financial Accounting: Alice Goodyear
Between my two W-classes and the thousand words a week I was writing for English 200, it was basically three writing-intensive courses and two that got me started on my minor, Corporate Strategy. The writing assignments I had all the time explain why I haven't been on Inside 'Dores a whole lot, but none of them were a chore. In fact, I got to do some pretty cool things this semester just through my classes:
-I started my first feature-length screenplay! As part of the final for Screenwriting, we're required to turn in the first 30 pages of a feature length screenplay that we spent time pitching and developing in class.  I've always thought the idea of being a screenwriter was cool, and after a semester of learning the basics and writing shorts, I'm on my way to finishing a feature!
-I made a blog. For English 200, I started my very own legitimate blog, and I got to spend so much time writing and thinking about music for COURSE CREDIT. What could be better?
-I used a calculator and it didn't kill me. I made it through Financial Accounting with WAY less pain than I had originally anticipated, and I feel like this should earn me some kind of commemorative bumper sticker or something. You know, the kind people get for running marathons? One of those.
Friends
-When I moved into Branscomb in August, I already knew my hall had great girls, but without Lup 6 my semester definitely wouldn't have been the same.  In the past four months I've become so close with my hallmates and made some of my best friends on the floor. You would think it would be hard to miss a dorm in the first days back home, but they make it very, very possible.
-In October (wow, I crammed a lot into October, didn't I), I headed to Gatlinburg, TN with some friends to hang out over fall break. At four hours from Vandy, Gatlinburg is a popular weekend and break spot, and I couldn't have been happier to relax (and play excessive amounts of Heads Up) in the mountains with such a fun crew.
-I got my first visitor! One of my best friends from high school, Neha, came up to visit me for a weekend in November from UAB. I took her to Kite & Key, Kappa and Theta's joint Winter Formal, and we got to try out Virago, an incredible Nashville restaurant that's been on my list to try for a while. Having a friend from home see how great Vandy is firsthand was so much fun, and since the drive's only three hours, I can't wait to have her back!
Between all the music, cool assignments, and fun, and getting to share them all with you on Inside 'Dores, first semester of sophomore year will be hard to beat, but here's hoping that second semester can do it!