Why I am Thankful for VU
Although I spend Thanksgiving with my family in Miami Beach each year, I always take some time to reflect on all of the amazing opportunities which I have been afforded over the past three and a half years at Vanderbilt.
First, I would like to thank Vanderbilt for renovating Alumni Hall. Now, I can get my pho fix at Bamboo Bistro, I can study in well-lit rooms, and I don't have to trek to Siberia to run on the treadmill. The work out room in Alumni Hall has brand new TVs, ellipticals and treadmills. It is a great alternative to the Student Recreation Center, which seems pretty far away when it is raining or cold outside. Now, I have absolutely no excuse to forego a workout because the weather is bad, or because I would rather watch TV.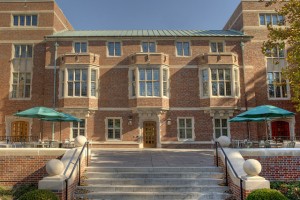 I am also thankful for the amazing course selection Vanderbilt offers. Because we are a smaller institution, some people think that we have a narrow selection of majors. I, however, strongly disagree. Besides the fact that you can create your own major, it is easy to double major, even across schools. In the College of Arts and Science, I have taken everything from Organic Chemistry to German Fairy Tales. I came to Vanderbilt thinking that I would take some science classes, some classes for a major and then apply to medical school. I didn't realize that all of the classes I took would enrich my overall knowledge and I would leave a more worldly person.
So as not to bore you with a really long list of everything that I am thankful for, I will only share one last thing. I am thankful to be a student at Vanderbilt during a time of progression and expansion. I feel like I am part of a revolution. Between the new Kissam College Halls and James Franklin leading the Commodores to three straight bowl games, Vanderbilt is the hottest school in the country. I donated to the Senior Class Fund last month as yet another affirmation of love and gratitude for my alma mater.
Although this may be my last ten-day Thanksgiving break spent eating too much and not studying quite enough, I always be thankful for VU.