#TBT Visiting Vanderbilt
Today marks one year since I set foot on the Vanderbilt campus for the first time. After four days in Nashville last November, I knew where I wanted to go to college. (And the first thing I did when I returned home was finish the application essays!)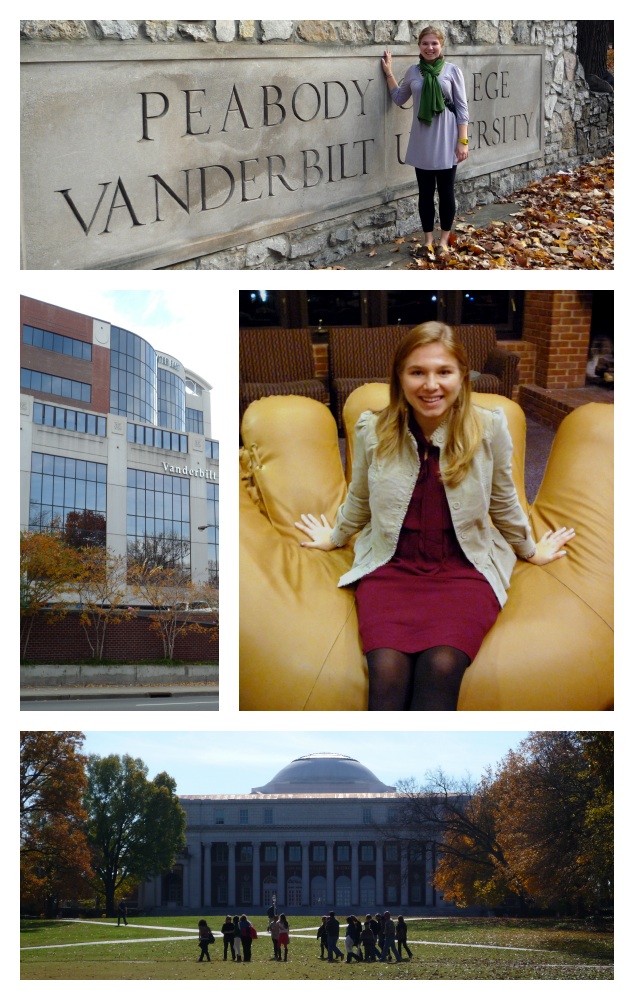 These places are so familiar to me now, like the Baseball Glove Lounge in the Student Center. In the bottom photo, a group of high school students tours the grounds.
Why Vanderbilt?
Before my plane landed in Nashville, I spent many hours of researching and making preliminary decisions. I started the college search my junior year, slowly accumulating and refining a list of essential qualities or "musts." In no particular order of importance, I looked for:
• A size of 1,000-7,0000 students — large enough to offer a wide range of opportunities and activities, yet small enough to feel like a community
• Diverse student population, ie. at least 30% non-white
• Reputation for academic rigor and selectivity
• Study abroad and service learning opportunities
• Campus ministries such as Navigators, Cru, etc.
• Swimming pool on campus
• Active green initiatives
• Summer internship facilitation
• Opportunities to participate in literary magazine, student newspaper, school blog –– that's a no-brainer for me!
• The adjacent town/city must be accessible without a car.
• "Greek" affiliation is not essential to social life. (On this point: to be honest, there is a strong Greek presence on campus, but I'm not rushing and it doesn't matter.)
• An awesome library (Vanderbilt's popular libraries are Central, Peabody for education, and Stevenson for math and science)
Vanderbilt satisfied all my criteria, and more:
• First-Year Writing Seminars to "foster spirited exchanges with professors and set the tone for the participatory learning style that characterizes a Vanderbilt education." The key word is participation. In four out of five of my classes this semester, attendance and participation is a graded component of the class, and in the fifth, that's accounted for with a weekly lab. Especially in classes from Peabody College, class discussions, blogs, and group collaboration are key.
• College Scholars "participate in honors seminars designed especially for them, enriched courses, and independent-study projects." I'm working hard to qualify for the Peabody Scholars program; I've met some upperclassmen who rave about it.
The first full day of my time in Nashville, I attended an information session and campus tour, and then got personal with 'Dore for a Day. I still remember the Commons Dining lunch of sushi and the Latin poetry class in Cohen with a professor who reminded me of Adrian Monk.
Notice how this word, "opportunities," gets used a lot when talking about college. It's a word that continues to define my life as a student at Vanderbilt.
What about the city?
I spent the next day exploring Nashville with my relatives. The food was utterly delicious (albeit pricey); the attractions, fairly highbrow. We ate at the Pancake Pantry and Fido––the latter could be the inspiration of the season 2 finale of Portlandia, and the former is reputed to be Taylor Swift's favorite Nashville eatery. We also visited the Frist Center for Visual Arts and the Parthenon replica in Centennial Park. The parts of the city near the Commons (Belmont and Hillsboro Village) feels more like a small town than America's "It" city. I'm never homesick for my own small town, Waxhaw, since Nashville has the same weather, quaint artsy shops, and historical attractions.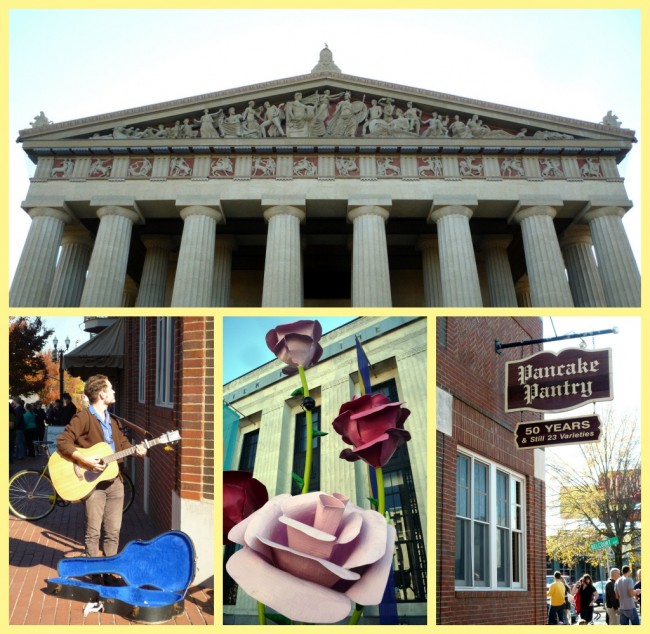 Since the visit, I applied, waited expectantly for the decision, celebrated when I was accepted, sweated to find a roommate, and finally moved in just two and a half months ago. The process was slow and agonizing, but so worth it.