Backtracking: Fall Break
Please excuse my tardiness, but the semester is FLYING by and I don't know what's happening…somehow it's already November!
For fall break (long time ago, I know), I went to Boston to visit my best friend from home, Annie.  This was the first time that I've visited her, and only my second time ever in Boston–I had been looking forward to the trip for months!  My suitemate Shilpa also went to Boston to visit her friend for fall break, so we got to fly together and hang out a little bit while we were there.  I had an awesome four days there that were filled with fun, so I'll just give you the highlights:
1. L.A. Burdick's: This is a chocolate shop in Harvard Square, and it was here that I had the most delicious hot chocolate I think I've ever consumed.  It was made with dark chocolate and tasted like I was drinking a melted chocolate bar of yumminess.  It was so rich, I wasn't even hungry for lunch afterwards.
2. Trident: Trident Booksellers and Cafe is exactly what it sounds like.  A place to read and buy books and a cafe.  It's one of Annie's favorite places to go and hang out/study, so we spent an afternoon there, drinking delicious hot tea and reading.
3. Movie time with Annie: Every time we see each other, we inevitably end up watching a movie or old Disney Channel shows until the wee hours of the morning, and then do nothing all the next day.  My mom will walk into my room at home at 2pm, find us still curled up in blankets, watching more movies, and ask us what we're doing that day.  The response is always, "…this…"  So naturally, we had to have movie time while I was in Boston.  We found a movie on Netflix and spent Saturday night doing what we do best–relaxing.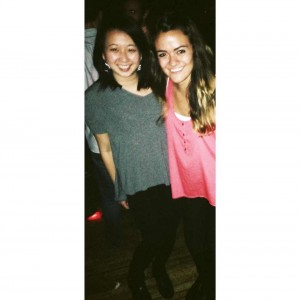 Returning to campus that Sunday was definitely bittersweet, but I had a wonderful time relaxing, catching up with my best friend, and exploring a new city!