Surprise!
This is slightly delayed, but two Fridays ago, I got the biggest surprise of my life: my parents came to visit!
Now, for many Vanderbilt students, your parents coming to visit on Family Weekend isn't really a surprise.  But being from California, my parents have never been able to come before.  When I found out that I had two soccer games this weekend, I was texting my mom and told her that I should have told them to come, since they've never seen me play at Vanderbilt and we had multiple games.  After that, I never really thought much about it, since it was last minute and I assumed flights were really expensive.  And then, on Friday morning, I stumbled out of bed, still half asleep, went to the bathroom to brush my teeth, walked back into my room and standing in my closet were my parents! After a brief moment of shock (I came close to tears, not going to lie), I pulled myself together, hugged my parents, and got ready for class.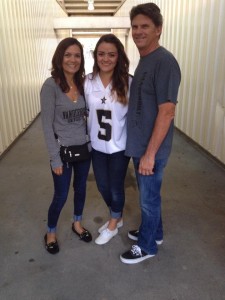 Since I had class and work and all that jazz to deal with for the next few hours, I sent my parents on a campus tour with fellow blogger Ashlin and our friend Paul, since they just so happened to be leading the 11am tour that day, and my parents had never officially toured Vanderbilt. By the time they finished the tour, I was nearly done with my day, so I headed off to one last class before meeting my parents back at my dorm. That evening, I had the first of my two soccer games of the weekend, and my parents, as well as many of my wonderful friends, came to cheer me on.  It was awesome having them there, since they've never seen me play soccer here in Nashville before.  After the game, we headed back to my suite and ordered pizza and watched the season premiere of Grey's Anatomy with my roommates.  The next day was filled with food, shopping at Opry Mills, and just general hanging out before the Vanderbilt football game that night.  Post-football game, we went back to my room and my mom helped me put away my laundry (It's the little things, y'all) and I spent some time working on my homework for the next day, so that I could go hang out with my parents all day after my game. The next day after my game, we went to Fido for lunch so my dad could try it, since he's never been before (it was delicious, as always) and after that we went and hung out at my sister's house, just relaxing and enjoying some family time (without my little brother, sadly).
It was awesome to get this unexpected visit from my parents and just hang out and take a break from my regular schedule. Basically, I've got the best parents ever and I can't wait to see them again in Phoenix in November for Nationals!