Homecoming Festivities
This week, my knowledge of what William and Kate named their baby (George Alexander Louis) came in handy! It was for Trivia Night in Rand, one of the awesome Homecoming events.
This year, the Homecoming committee created a challenge for all the organizations on campus. They wanted to see who would be the most involved in activities throughout the week so they've been giving out points and keeping track of who's in first place. They created three brackets: Greek, Student Orgs, and Commons Houses.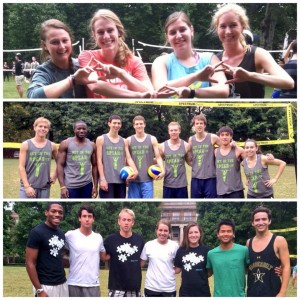 The first event was a volleyball tournament on Sunday. For the next few days, students could give blood and their organization would receive credit (read Samantha's blog for more details!). On Tuesday, there was a blanket drive called "Ties for Tots," because students tied blankets together for different charities. On Wednesday night, there was free pizza and trivia! As I mentioned before, I was on the AOII team and we were surprisingly tied for first at halftime (knowing George Alexander Louis's birthday gave us extra points). However, we didn't answer any of the sports questions correctly so we dropped out of first place by the end. On Thursday was Commodore Quake–read Priyanka's post for more details! Yesterday was the Block Party and today is the tailgate!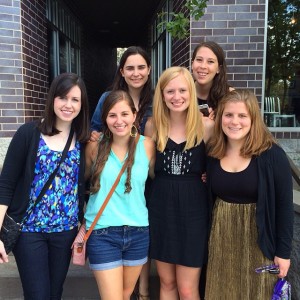 This week has been a blast competing against other organizations and just being even more involved on campus. My favorite part of Homecoming, though, is definitely alumni returning, because I have a bunch of friends who've graduated recently and are visiting Nashville this weekend. I actually just got back from lunch at the Silly Goose with a group of them and it was so exciting to catch up and hang out again. Time to go tailgate and support our 'Dores with them! Happy Homecoming!