A Walk Through Brevard
Hello!  It's the last day of Brevard, and I thought I might take a walk with you down the main road, Andante Lane, and reminisce a little, because yes indeed the weeks at Brevard have just flown by and it's just a week 'til I return home to Nashville!
This is our cabin.  Fourteen girls, one cabin.  There were many rules and most of them were common sense: be clean, respectful, and smart.  We made our beds every day if we were good, and sometimes we would make them every other day for the sake of passing inspection.  Mussed up sheets were prime territory for spiders, you see.  All the girls became friends even though we rarely saw each other in the cabin, oftentimes only in the bathroom while brushing our teeth before bed.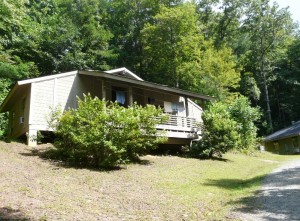 This is the good lake.  Many a sunbather lay on its dock soaking in Vitamin D, which was much needed after a lengthy practice session in an enclosed room.  This dock was also home to two canoes, and at the edge of the lake was a mini-dam.  A few brave souls ventured as close as they dared to the edge before quickly paddling backwards.  Also, this lake was home to four ridiculously dumb, yet endearing ducks, who loved to waddle in front of moving cars.

This is Studio Row.  My friend C. called it Practice Mountain.  Not only did we subject ourselves to practicing, but people would have to climb up its steep path to find a space in which to practice.  Many traversed back and forth along the gravel, often muddy, path to find a room, but the wise choice would have been to not practice during peak hours.  Same for Blair: don't practice between 10 AM-3:30 PM; you won't be able to find a room!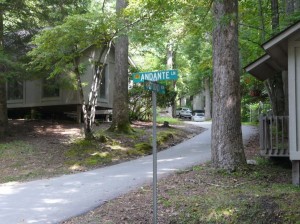 This is Stables.  The composers lived and slept in their conjoined rooms, feasting on Nutella and rapidly composing as their orchestra pieces were due for a reading.  A computer lab here was the Wi-Fi hotspot.  Flocks of students made their pilgrimage to the lab to check their emails, catch up on their telly shows, or mindlessly scroll down (and down and down) their Newsfeed.  Student Services and the mailboxes were conveniently located here as well.  Stables 4 was the room in which we often held studio class, where the cellists' first audition took place, where the cellists once had a spontaneous sight-reading soiree, and where the BCF held Movie Night.  Twice.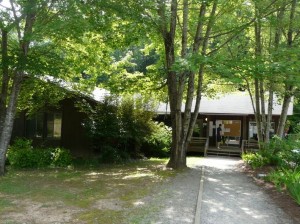 This is Straus Auditorium.  Every time I passed the sign for this outdoor venue, I wanted to smack it and paint another "s" to the end of "Straus."  But since violence and vandalism aren't really part of my nature, I kept my cool and just kept walking.  Our first Sinfonia sectional took place in here, and this was the open-air home of our weekly Brevard Christian Fellowship (BCF) meetings. Across the street is the Broyhill Administration Building. Right next to that are the basketball court and playground, where all of the toddler-aged faculty kids would play.  Harmony Hall, another open air rehearsal space, was the place where the opera kids would belt their solos during late night rehearsals and where I would take naps if I didn't feel like hiking eight minutes back to the cabin.  Sleeping on the wooden benches of Harmony Hall wasn't nearly as comfortable as the couches in the Blounge.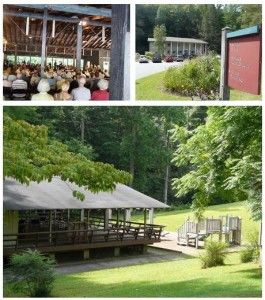 This is the cafeteria.  Oh, the dining hall.  We had a 7 AM Breakfast Club which started strong for the first few weeks of camp but sadly dwindled down to a steadfast two or three by the end of the festival.  Three reasons why I got up this early almost daily: a) I'm a morning person, b) my day started more productively, and c) breakfast was the most consistent and frankly, the safest of the three eating periods.  The meals here were often… creative.  Sometimes the salad bar would be the wholesome option.  Peanut butter sandwiches also became a staple of my diet.  I would wholeheartedly long for the Commons and Grins.

This is Thomas Hall, located across the deceptively pretty, but snake-ridden lake, on which there is a little island which people use to play pranks.  The esteemed building of the cellists, bassists, and percussion provided air-conditioned practice rooms and lockers which were close to rehearsal spaces.  We were blessed.

This is the outdoor auditorium where we would sit in the last five rows with all the other students and be the loudest audience members cheering for our friends on stage. The concerts would be extra entertaining if a bat or butterfly flew across the stage. One time, we opted to sit on the lawn to buzz some grass and (try to) wolf whistle the performers after a spectacular performance.  Good times.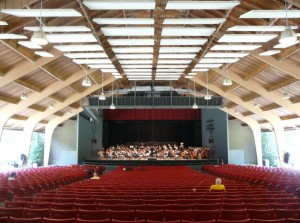 I think I'm going to miss Brevard a lot.  While playing one of my favorite cello concertos with one of my favorite cellists, the orchestra accompanied with some of the softest playing ever, and it gave me the good shivers.  I just couldn't quit grinning.  I'm already missing the people with whom I've made performed, each week conquering some musical giants like Beethoven Symphony No. 5 or Tchaikovsky Symphony No. 6.  Looking back to all the initial fears about how-are-we-ever-going-to-learn-this, I've realized that yes, we accomplished something wonderful together.  Thank you Brevard for a lovely seven weeks!