Suite Escape
This past week, Chattanooga became the destination for a few of Vanderbilt's finest.
A look at a few of my previous posts will give you a little glimpse of my VU football-loving self, so exclaiming my love for our football program and the grand ring master, James Franklin, should come as no surprise. So, imagine my enthusiasm when I heard that my hometown of Chattanooga hosted the VU Football staff retreat! Of course I'd be  out of town while he was here, but still. It's a big deal.
If, for some odd reason, you are not keeping tabs on Coach Franklin's every move and have, therefore, not witnessed his school spirited cliff diving experience, allow me to enlighten you:
James Franklin Cliff Diving on Staff Retreat (this video that may inspire you to follow in his footsteps)
While I was not able to see Coach while he was in Chattanooga, I was able to see 4 of my 5 suite mates when they came down for a quick weekend trip! As Victoria mentioned in a previous post about housing, the 6 of us suite mates have yet to be in a picture together, which is pretty pathetic after 3 years of friendship. We are aware. Alas, the terrible tradition continued as the 6th member of our housing group stayed in Nashville while the others made their way down, but we'll try to rectify the situation in a few weeks when we move in!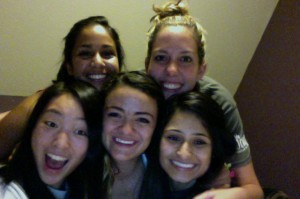 Our time together included eating, movie watching, sleeping in (some of us, that is. I had work that morning) and shopping before we parted ways. We also spent some time planning for our future suite!
While the trip was short, it was so wonderful to have a mini reunion with my dear friends before move-in day a few weeks from now. It is so crazy to think that summer is practically over! But there is a lot to be done between now and move-in. Work, friends, and family gatherings are all on the schedule, and I'm looking forward to every minute of it before Vandy Life starts back up, and a different level of adventures begins.