Race to the Top
Apart from Vanderbilt being located in the invigorating city of Nashville, it is also located in the great state of Tennessee. This great state is filled with plenty to do as long as you look around and are willing to go out of your comfort zone. This past weekend, two of my friends and I decided to go back country camping at Fall Creek Falls, one of Tennessee's many national parks.
Since the national park is only two hours away, its an amazing opportunity to spend a weekend out in the wilderness and to embrace your inner Pocahontas. So, after a two hour drive in which we stopped by McDonalds to play Monopoly, we checked in at the Fall Creek Falls Nature Center where we picked up our camping permits to begin our 12 miles journey on the Cane Creek Lower Loop Trail into the unknown.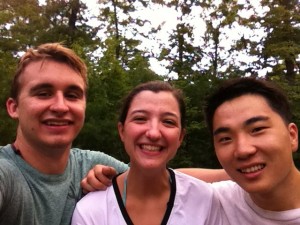 The plan was to hike 6 miles to the camping site, sleep then finish up the rest of the 6 miles the following day. The first 3 miles went smoothly. It was an easy flat hike that we cruised by in good time. But then the next 3 miles was a strenuous stretch that involved going down then up a steep ravine while being eaten alive by mosquitoes (the single greatest evil in the world). In the end, we saw the tree line thin out and a light shine out revealing the lush, green pastures that we would call home for the next 12 hours. After a short encounter with a rattlesnake, the tent was up and the fire was burning. An fun evening was had by all.
We woke up early in the morning and packed everything up to finish off our trip.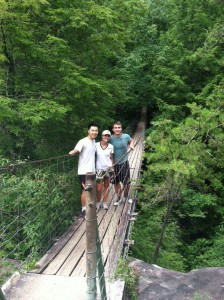 Compared to the first day's hike, the second day's hike was much more manageable and more scenic. The last few miles involved hiking around the waterfall and going over some sketchy suspension bridges.
All in all, the hike was a tough one but overall it was a very enjoyable experience. I definately recommend it as a weekend trip that you can take when you're at school. Vanderbilt has a service called ZipCars where you can rent a car for a few hours or multiple days and that is sure to help if you don't know anyone who has a car.
If hiking is not your thing, there's still plenty of other things to do in Tennessee such as Dollywood, the Smoky Mountains, Gatlinburg, the Chattanooga Aquarium, Memphis or even the Grand Ole Opry. Whatever floats your boat, you'll find something to do in the great state of Tennessee.