It all Begins Again
Today marks the beginning of the return of football season. Today marks Day 1 of Vanderbilt Spring Football. Today we return to rebuilding Vanderbilt Football so that we can return to the Golden Days of the 20's and 30's.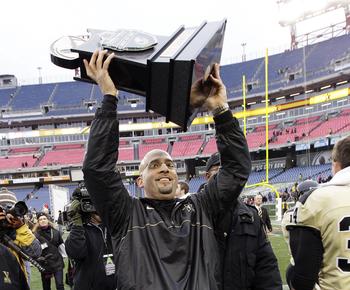 Sure, success isn't really in the history books of Vanderbilt Football but the spark that James Franklin has ignited at Vanderbilt continues to burn strong. Last year was an important year in showing the country that our success during Coach Franklin's debut season was not a fluke. The Commodores finished last year's season 9-4 with a dominating performance in the Music City Bowl against NC State. Currently on a 7-game winning streak, the team is the hottest team right now in the SEC. I mean, Alabama is only on a 4-game winning streak, that must mean we're better than them. Right?
With a top 20 recruiting class in hand, Coach Franklin enters the Spring Season with much momentum and he has a lot of work to do in figuring out the future of the Vanderbilt Football Team. I'll outline some of the key issues that we need to address during Spring Football.
1. Replacing Little Rodgers
With the departure of Jordan Rodgers (hopefully to the NFL, looking at you Packers), we need a new quarterback to step up and continue the progress that Jordan Rodgers started. Right now, most would say the favourite is Austyn Carta-Samuels, a senior, who played for 2 years at Wyoming before transferring to Vanderbilt. He already has a game under his belt and has spent the past two years learning Franklin's offense. The challenger is Patton Robinette, a red-shirt freshman, who I had class with last year (no big deal) and many think that he is someone who can take over for this offense for the next couple of years. The quarterback job is up for grabs and either of these players could be handed the keys to the offense by the end of Spring Football. I have no idea who will come out victorious but, just saying, the last time a red-shirt freshman quarterback started, he won the Heisman…
Whoever comes out ahead will be greatly helped out by the return of All-SEC wide receiver Jordan Matthews, his partner Chris Boyd and top 100 Junior-College transfer, Brandon Vandenburg.
2. The Run Game
Vanderbilt lost its best player in Zac Stacy who went to pursue a career in the NFL. Best of luck to him. Fortunately, Vanderbilt has great depth in the running back position in senior, Wesley Tate and sophomores Brian Kimbrow and Jerron Seymour. Kimbrow is an explosive back with electrifying speed and huge potential. I think that this upcoming season could be a breakout season for Kimbrow with the aid of veteran Tate to share carries and a more experienced offensive line.
3. Maintaining a solid Defense
Everyone says Defense wins Championships, so it's important that we continue to improve our defense so that when we're in the National Championship Game we'll be able to win with flying colours. Coach Franklin has done a good job to make sure we keep our Defensive Coordinator, Bob Shoops who has led the Defense to consecutive top 20 finishes in total defense.With many starters returning in Chase Garnham, Andre Hal and Kyle Woestmann to name a few, Vanderbilt will be able to continue to maintain its level of great defense especially with the young talented players we have lined up such as Stephen Weatherly, Darreon Herring and Caleb Azubike (the Nigerian Nightmare)
As can be seen, there is a lot of work that needs to be done before we start the season with the opener against Ole Miss on Thursday night. On March 23rd and March 30th, the Football team will be opening Spring Practice to the public and on April 13th will be the annual Black and Gold Spring Game.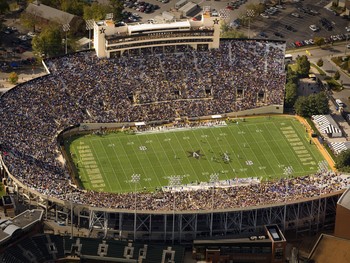 I know that Coach Franklin will use this period to further improve the team and continue the remarkable work that he has accomplished already. Wikipedia has even labelled this time the James Franklin era but, I want more, I want it to become the James Franklin Dynasty.
Anchor Down