Housing Happiness
Beloved readers, I have officially applied for undergraduate housing at Vanderbilt for the very last time. Eep! While this means I am frighteningly near to graduation, it also means I am getting to live with some of my very best friends for my senior year at Vandy. Today I shall detail what went down, along with a brief explanation of how the housing process works. And what format will I use to chronicle this journey? A list, of course.
Step 1: Assemble a ballot. This means gathering anywhere between 1-10 people you want to live with. The process varies a little depending on your group–for example, a Mayfield is a group of 10 students that all work on a common project, which involves a little different application process than traditional housing.
Step 2: Pick a location. We had a group of 6 of us that wanted to live by each other, so we could either find 2 more people and live in two Chaffins on Highland, do a Chaffin and a 2-person Morgan or Lewis, or all live together in a Towers suite! We picked the final option.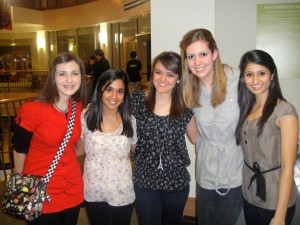 Step 3: Submit your ballot. Basically one person goes online and creates a ballot and puts in information for who would be living together. There are certain days when ballots are open for each area–at the beginning of the whole housing process when you declare whether you want to live on or off campus, Vanderbilt ResEd posts these dates. After you submit your ballot, everyone else who you said you wanted to live with has to accept the ballot, and then you're good to go!
Step 4: Wait for the ballots to be posted. Anxiety mounts. Time passes slowly. Or you forget and then later remember and rush to check where you are on the list. The way it works is that you get points for seniority–so to-be seniors get more points than to-be sophomores. Then, within point levels the choosing order is randomly generated. Guess whose ballot was the very first to pick a Towers suite? Mine.
It was a pretty exciting moment–I knew we'd be high on the list since we're all going to be seniors, but getting a text from a friend saying "You're number 1!" is always nice. From there you bring your housing contracts and select your desired living place at the time they tell you to. I actually wasn't able to make this this year, but thankfully my friends made a marvelous choice! When you're a first year this whole process is done for you and your housing is automatically awesome because it's on Commons. But having now gone through it for the last time, I can officially say I'm so excited for living with five of my closest friends in Towers next year!