I miss the rains down in Africa
Crisp new spiral notebooks, empty labeled binders, and stiff textbooks remind me that it is the beginning of the semester. I love this time because it is filled with so much anticipation for the following months. Still, there is always tinge of longing for Christmas break, we all want it to be just a little bit longer.
This Christmas break, I went to visit my dad's side of the family in Zimbabwe. I was so happy to see my parents and do everything with them over the break. The thousands of miles between us definitely make us closer. We stayed at the farm that I lived on when I was younger (my parents used to be ostrich farmers). It was interesting to see places from my childhood, everything looked 'cropped', appeared a lot smaller, reminding me that it had been a long time since I had been back "home".
I hadn't visited Victoria Falls since I was six so my parents took me again. The idyllic and calm of the Kariba river before the water plunged down the cliff made me marvel at the wonder of nature.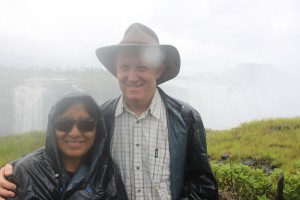 We had a lot of fun running around the trails to look at different views of the Falls with my aunt, cousin and granddad. We saw some tourists on the Zambian side swimming right at the end of the Falls. Since there is no downward slope, there are no currents; so, it is safe, relatively so, to swim at the edge of the falls.
But what really reminded me that I was home, untangling all the knots of homesickness that I had felt during the fall semester, was the rain. At my former high school, every year the choir sings Toto's 'Africa' for graduation. It is true, there is something special and different about rain in Africa. During the beginning of my time in Zimbabwe, there had been no rain. Everyone was apprehensive, because no rain means no sustenance for a majority of the people since a large part of the population's livelihood and salary depends on agriculture. As clouds gather and the skies darkens, everyone crosses their fingers. When the first drops fall, there is an inexplicable joy that you feel glowing in the environment.
It was about the second week when the first rains of the season came; the rains were much too late and before they had come everyone I had talked to worried about it. Early that morning, my dad and I sat on my bed with our mugs of rooibos tea listening with relief and happiness to the familiar patter of the drops against our tin roof. Ah, it was so good to be home.