Performances! Performances! And yes….more performances!
As the semester comes to a close, student group performances start popping up like mad!  Every weekend is so chock full of performances you can't conceivably attend them all and still have time to study and sleep.  As such, I wanted to write this blog post to talk about all the great students organizations that Vanderbilt has to offer.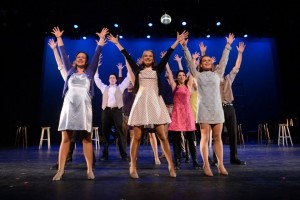 A few weeks ago, I went to Vanderbilt University Theatre's freshmen showcase.  I love it because it gives the freshmen the opportunity to hold leading roles.  Additionally, the series of one-acts are the only time a student directs a VUT production.  While there are some theatrical groups that are entirely student run (like the Original Cast and Vanderbilt Off-Broadway), VUT is usually directed by a faculty member.  Each element of the behind-the-scenes design work was also done by my fellow upperclassmen, which inspires me.  The shows were hilarious and great for a study break since the entire show ran only 45 minutes long.
The weekend after that, I got to see the Original Cast perform their new show Memory in Retreat.  It's always great to watch them perform because they practically exude talent.  Beautiful singing, vibrant costumes, and catchy dance-moves all combine to make an OC show.  Earlier the same night, Victory a cappella had their concert in Benton chapel.  I had so much fun participating–we sang our hearts out to praise God.  I even helped our general manager Mark lead the audience in our rendition of Beautiful Things.  Many of our alumni returned to see us perform, and we got to sing with them once again during our newly-appointed legacy song Baba Yetu.  The same night, VIBE our amazingly-synchronized hip hop dance crew performed.
Tongue and Cheek had their final hilarious show of the semester, Vandy Spoken Word made their audience reflect through their punctuated phrases, Voices of Praise sang, mimed, danced, and generally performed their hearts out.  They were then followed by the Melodores semi-annual concert, the Dodecophonics hearthrob singing, Voce a capella's beautiful harmonies, and recitals at Blair.  As a theatre major, I love watching performance-based groups thrive onstage, and present their semester of work.  I hope you all get a chance to come out to one of these performances before you attend Vanderbilt, and mostly definitely once you're here! :)
The final awesome performance I got to attend was the Grammy Nominations concert that ended up having a promotion that let college students go for free!  Check out my roommate Dexy's blog about it here.
…Until next time.