I'm Done, Where Do the Books Go?
At the end of the semester, every student looks back at all of the books that they have read and worked through all semester.  And while you now know most of the information in that book, as a college student that is constantly moving in and out of rooms books start to look like more weight to carry at the end of the year.
Even this stock image teen seems to be having some trouble with all of those books: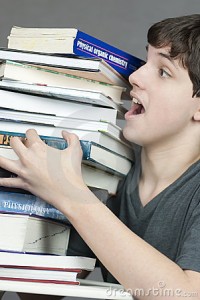 So what do you do with your textbooks?  With the new Barnes & Nobles Vanderbilt Bookstore students have a big bookstore to return their rented books and sell back their books, and even turn around some of that money to buy even more books!  Stations are also set up all around campus that accept B&N rental returns and buy back some of your books.
But what if you want to hold onto some you rented?  You can return the book and then purchase it back from them at a "used" book price, which is usually significantly reduced.
What if they won't give you any money for your textbook?  A serious question that most Vanderbilt students ask since the curriculum of courses offered changes semester to semester.  Lots of entrepreneurs have seen this great opportunity to buy books and there are now lots of ways to make sure you get the most out of your books.  The buy-back van at Qdoba Mexican Grill is known to pay off pretty well and lots of charities collect books with bins set up around campus.
Whether returning rentals, selling your books, or finding a way to donate them, there are lots of ways to reduce your textbook load at the end of the semester.  I like to keep a few of my favorites or things that I might use again in my major.  This is the beginning of my personal library as I pick and choose which books to hold onto.  Now I have to pick which ones are going back to Barnes and Noble tomorrow.  Decisions, decisions…..