I Love My Mommy
Hey, everyone!  I hope you all had fantastic weekends; I know I did!  Family weekend proved to be everything I expected it to be and much more. :)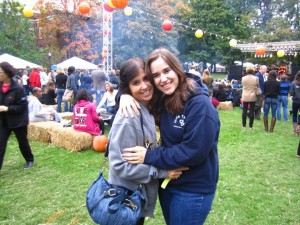 On Thursday night my mom's plane landed in Nashville and I was so excited that I couldn't do any work.  I actually ended up pacing my apartment.  Yes, I know that's a little bit pathetic, but I was just so excited to see her again after 2 months!  Once she got to Morgan, we had dinner at a steakhouse on West End.  They had this delicious honey butter that inspired me to create random flavors of butter in my dorm (by the way, I feel like you always eat tons of food when you are with your family, so this post will mention that a LOT).  Since it was so late already we mostly just talked and then went to sleep at her hotel (it was basically four in the morning for her because of the time difference!).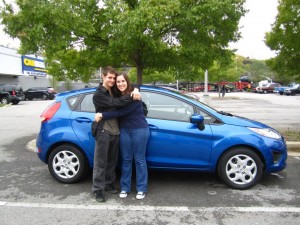 The next morning we woke up early because my mom was jet-lagged, ate a delicious breakfast at the hotel and picked up my boyfriend Kase from Lipscomb to go car shopping!  Vanderbilt does not encourage sophomores to have cars on campus, but I'm going to need one this summer for work and I can't buy one in New Jersey without a New Jersey license, so we got one this weekend.  Ironically enough, the first car I saw at CarMax was the one I ended up buying a few hours later.  We took a break between the car formalities of insurance, warranties, etc. to have lunch at O'Charley's—one of my favorite restaurants here in Nashville.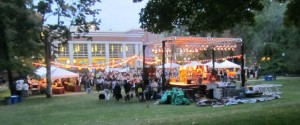 Afterwards, we participated in all of the Vanderbilt family weekend events I was super-excited about in my last post.  We registered my mom at the SLC and then went to Fall for the Arts to watch some amazing performances, eat yummy food (the butternut squash soup was the most delicious of all!), and enjoy the fall atmosphere.  Then we dropped Kase off back at Lipscomb and went to the Athenian sing.  I always love seeing the student performing arts groups strut their stuff, and this was no different.  The professors who judged the participants had funny comments, and I think it was great that the winning teams were given a set sum of money to donate to charities that inspire them.  My mom and I ended the night by eating Hot and Cold ice cream, drinking their tea, and browsing books at our campus Barnes and Noble.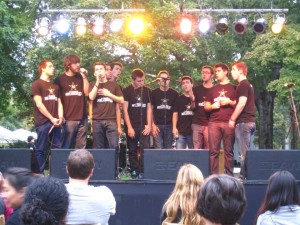 Saturday was when the stereotypical family-is-visiting activity took place: we went shopping.  This meant that Dexy (check out her blog!) and I could stop randomly stealing extra Splenda from restaurants, cafes, and munchies marts because we were finally able to buy an entire box. :)  Then, my mom and I picked up Kase so that he could see me perform at the BCM tailgate with Victory A Cappella.  Since it was our two year anniversary, he brought me flowers, which was sweet. :)  After my performance, we sadly did not go to the game but instead went to the school-sponsored tailgate for comfort food and then to Green Hills mall.  My mom had always wanted to visit it, but had never had the chance.  We walked around a lot and even found a fabulous store that sells random cookbooks, high-class cookware, and imported spices!  It always amazes me how many new things you can find each time you walk around Green Hills.  After eating a flatbread at this fifi-chichi French restaurant there, we watched Pitch Perfect.  I love that movie and have totally seen it three times already, but it was the perfect close to our evening.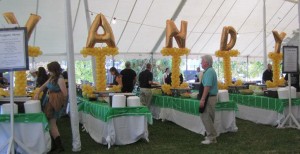 The next morning, my mom dropped me off at Lipscomb so that I'd have a ride to church.  I was so sad to see her go. :(  I think that is one of the pitfalls of being at college: you get to enjoy making your own choices, participating in all the great activities on campus, etc. but then you do truly miss your family.  However, I am of the opinion that absence does make the heart grow fonder…the greater the distance, the more you appreciate your family's company on when they do visit.
…Until next time!