A Commodore Victory!
Hello again from one of the biggest Commodore fans you'll meet :) As I mentioned in my last post, this Saturday our boys took on Auburn in what was a very exciting game!!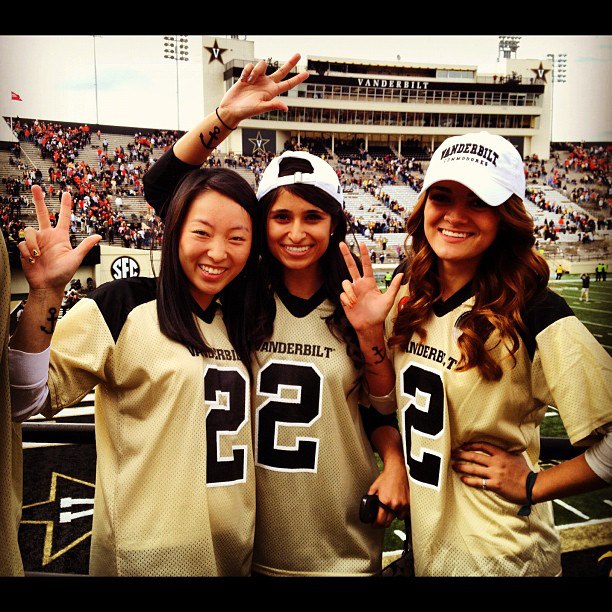 It was a morning game, but that did not deter the mass of Auburn fans from heading up to cheer on their team. Even so, the Commodore fans were in no way underrepresented. The stadium was packed as families and students came to support their 'Dores!
This was probably one of the best games I've been to! The energy in the stadium was phenomenal and our boys performed so well. In addition to a wonderful SEC victory, this game also signified Zac Stacy becoming Vanderbilt's all-time rushing leader!!!
Along with a huge win, we also got free jerseys! Every year, the Vandy Fanatics give out free jerseys before one big game as a way to spread school spirit. And let me just say, my friends and I are ALL about free giveaways in general. So when it's free AND Commodore-related, we obviously made the effort to wake up a little earlier than we normally would have to secure our jerseys and then secure our spots in the stadium. As you can see in the picture above, we are all proudly sporting our new gear, which coincidentally bears Stacy's number :)
And as if all of this goodness weren't enough, my friends and I DID, in fact, get the coveted spots on the rail in the student section. AND we were shown on the jumbotron. AND we were on ESPN. (I hope you were watching!)
It was a good day in Commodore Nation.