Race in Review
Have you ever seen the Amazing Race? Two weekends ago, we got the opportunity to live the experience by participating in an urban scavenger hunt called Challenge Nation around the city of Nashville.

Let's backtrack a bit first. I discovered this race when looking at 5Ks around Nashville because fellow blogger Caitlyn and I had wanted to do The Color Run but it filled up. We stumbled upon Challenge Nation and decided it looked like the most fun thing ever and decided to petition a few friends to see if they were interested in the hopes of eventually signing up.
A month or two went by and sometime around the beginning of last week I was reminded of the race and decided to check when it was. Upon realizing it was the coming weekend, I quickly contacted Caitlyn and we worked on forming our team–we ended up with three other teammates–Collin, George, and Monica. Needless to say, we were excited for race day.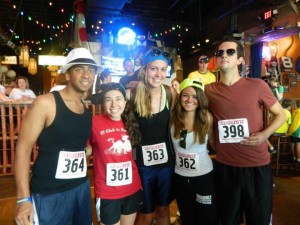 The race was going to give us Vandy students an excellent opportunity to pop the Vanderbubble and explore downtown Nashville on foot. The way it worked was that every team received a list of 12 clues that had to be solved and would take us to different places around the city. We had to take a picture at 11 out of the 12 spots, and we could solve them in any order. The entire team also had to be in each picture, meaning we had to do a lot of recruiting random strangers for the race.
I'll let Caitlyn reveal the results, but let me just say that this was so much fun, and that's an understatement. Nashville is an incredibly lively and friendly city, and this race definitely exemplified that for me. Plus it's something to add to my list of awesome adventures I've had during college!
Disclaimer/Spoiler Alert: I am not a runner. This is proven by the fact I was by far the slowest member on our team. See the following picture: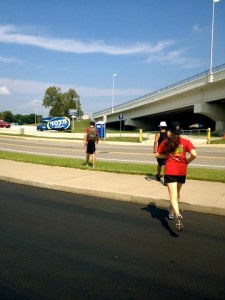 It's okay though, because our team has agreed to start practicing for future similar events. Maybe triathlete and fellow blogger Nathan can help with training.