VanderBabies! (Part 2 of 3)
As mentioned in my previous blog, I am interviewing three students from my high school that will be attending Vanderbilt in the fall. I have already introduced Janine, VanderBaby 1/3. Now… meet Pranjal Gupta! Pranjal graduated from Auburn High School this spring as an IB Diploma Candidate and is attending Vanderbilt as a Cornelius Vanderbilt Scholar. He is a School of Engineering student planning to study chemical engineering. In addition, he plans to pursue a career in medicine. I asked Pranjal a few questions about this summer and the upcoming fall.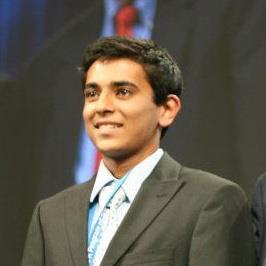 1. What do you feel will be the most difficult adjustment from high school to college?
Academically, the fact that most college classes have three tests and a final which count for the majority of your class grade. Otherwise, overall, probably just being independent and realizing that college is going to force me to be responsible for things that I took for granted in high school and at home.
2. Speaking of home, what are you going to miss the most from Auburn?
There's so much. Mostly the people though—my friends and family. I'm definitely going to miss my mom, dad, and brother and also my friends, the kids I grew up with for 16 years in Auburn. I'm also going to miss the Auburn football games, the town and the Indian community here. I was always involved in the Diwali programs, so I hope I can keep it up in college.
.3. On the other hand, what are you looking forward to the most?
MEETING ALL THE PEOPLE! I want to get to know the people I will be spending the next four years of my life with. Hopefully there are a lot of amazing and intelligent people. I mean, it's Vanderbilt so there will be. It's also kind of scary and makes me anxious going to school not knowing 99% of the people, but I'm sure I will find my niche. I'm also looking forward to my classes, living in an arboretum, and going to the football games.
4. What factors contributed to your decision to attend Vandy?
Well, for me it was between four schools with great medical programs and/or engineering programs. I plan to study chemical engineering as an undergrad, but I plan to apply to medical school as well. I am not sure if I want to pursue an engineering career, a medical career, or a mixture of both. Vanderbilt offers me the best of both worlds—a strong undergraduate engineering program and a very strong pre-med program. Plus, Vanderbilt offered me the full-tuition Cornelius Scholarship, which made Vanderbilt a much better financial decision than the other schools I was accepted to. When I visited Vanderbilt, I loved the beautiful campus and could easily imagine myself as a student there. It's a great academic school with a vibrant student life and Division I athletics… I had to choose Vanderbilt!
5. So, you have a summer between high school and college. No intense summer work (well, except for reading Half the Sky of course)! What have you been up to this summer?
YOUTUBE-ING! I'm trying to introduce myself into the world of filmmaking and acting. This summer I've been putting out some short videos on my channel, "mrpranjy" (some short films, sketches and vlogs) that's all real amateur stuff, but I've been improving! It's super fun and I'm so happy I found a new hobby. Hopefully I'll get big on YouTube someday, haha. GO ON YOUTUBE AND SEARCH "MRPRANJY" AND GIVE ME SUGGESTIONS ON HOW I CAN IMPROVE! Other than that, I've been working at a doctor's clinic as a medical record and billing personnel. It's been a great experience and I have learned a lot about the administrative part of medicine. I also went to DC for an internship at a computer software company and am planning to visit India to see my relatives. At home I've been chilling with friends and have been trying to pick up tennis as a new sport.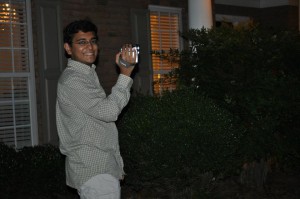 6. As you'll soon find out, Vanderbilt has a ton of extracurricular activities that cater to a wide range of interests. What clubs/ organizations do you plan to get involved in?
I want to get involved in the VSVS program (Vanderbilt Student Volunteers for Science) because my whole life has been centered on science, research, and teaching high school and middle school kids about science. I love it. I'm also going to try and do some research if any professors are willing to mentor me or let me become involved in their labs, because that would be awesome! I plan try a lot of new things at college activities-wise. I want to see if I can maybe join an acting club or maybe a DANCE club. I want to get involved in the Indian community, maybe find a yoga club, and get involved in ultimate Frisbee, soccer or tennis at an intermural level. I would also like to join a Red Cross club because I was very involved in that in high school.
Check out one of Pranjal's latest Youtube videos, The Twitter Monster!