Running Your Problems Away
Last Saturday (April 28th), I ran my first half-marathon! Nashville is home to the Rock n Roll Nashville Marathon (which benefits St. Jude's) each spring, and a small group of ROTC cadets, myself included, volunteered to run on behalf of the department. Bedecked in my sweet Army Half-Marathon shirt, I met the rest of the group around 6:30, and we headed down to West End near Centennial Park. I didn't think to take any pictures, but I wish I had – the street and the park were absolutely packed. The number of runners and walkers ended up being something like 22,000, which, for perspective, is almost four times Vanderbilt's entire student body.
After dropping my bag off with the UPS truck that would carry it to the end (the logistics of the event were spot on), I dashed back to my starting corral with about a minute to spare before starting the race. From the first steps until crossing the finish line 13.1 miles later, the streets were lined with Nashvillians out to support the runners and St. Jude's. Having the cheers and support of all the other runners and the spectators nearly balanced out the hugely negative aspect of running after the sun rose – The sun. Since all of our ROTC runs are generally finishing when the sun rises, I don't spend much time during the school year running in the heat, and I could definitely tell. I was spent by mile ten, but managed to drag myself the next three miles and even stretch out at the end to look athletic for the people at the finish line!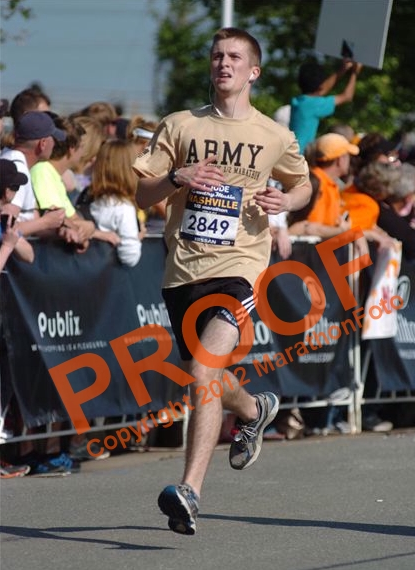 As demoralizing as it is to be drained of energy and still have miles to run, the people lining the roads of Nashville on their Saturday morning to cheer for all the race participants made the day a really cool experience, and I'm glad I performed at least reasonably well (beating my Professor of Military Science by eight seconds. HA!). I think my next step for this summer may be a triathlon – I'll keep you posted!
Now to go take my last final.