Mayfield Madness!
What joy comes from control of your housing situation! Plus, ya know, living with nine of your best friends and focusing on a project you all really care about, right?
Well, as I end the school year, I realize how fortunate I was to live in a Mayfield and how fortunate I am to continue living in a Mayfield next year. Just so you know, a Mayfield is a house which has 10 single rooms, a living room, a hall kitchen, and two bathrooms. Sounds pretty snazzy, yeah?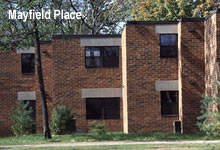 It is. It's awesome. I live with nine of those wonderful people that made sure I returned from my semester abroad. This year, we worked on a wonderful project that I have mentioned before. Remember how I Skyped in to one of the seminars we did? Yeah, we were talking about globalization, and yes, it was a lot of fun! We managed to create a rather successful blog which ranged widely in all of its topics. We also had four seminars in regards to our topic, and they were each enjoyable in their own way. We talked about Spanish Conquest of Mexico and the Napoleonic Era; the globalization of Chocolate; how Asian culture has spread across the world through meditation, martial arts, and trade; and our last seminar was a movie screening in order to discuss terrorism in the past and today.
Most importantly, though, we learned a lot, and we had fun doing it. We challenged each other and learned how to live with different personalities through the year. The Mayfield truly teaches you how to cooperate with other people. Sure, you have to put time into your project, but it is worth it; the more you put in, the more value you get out of it. Next year, we have an even more exciting project! We are challenging Vandy Stereotypes, raising awareness of how everyone on campus actually differs from one another, and discussing how we should embrace our unique traits.
Really, it is a comfort to control your housing situation. If you sign up for any of the Living Learning Communities (LLC), then you have a better chance of controlling where you live the next year. Trust me, it's a comfort. Basically, take advantage of the awesome housing Vandy provides. It is worth it!