Vanderbilt ≥ Home?
It's amazing that a sassy, naïve 18 year old can come to a top 20 university and feel perfectly at home after only one semester of freshman-hood.  It feels like Vanderbilt has been my home for years and years, though my mom probably wouldn't want to hear that.
I am always sure to enjoy my queen-sized bed and home-cooked Texas meals when I'm back for breaks, but Murray House sure does feel like a close second as far as homes are concerned.  So, friends, without further ado, here are Samantha's Top 5 Reasons Why Vanderbilt is ≥ Home:
1. I just ate a pesto grilled cheese with tomato bisque and sautéed green beans in the Commons Center.  I mean, come on, how much better can a lunch on a Tuesday get?  The dining staff is made up of superstars who really care about the students.  The woman who dishes out oatmeal in the mornings, Lynn, knows two of my friends' orders by heart and asks them how they are doing each morning, and I am quite jealous of that.
I'm currently working on being able to just say "the usual" to the omelet lady and have her know exactly what I want on my egg white omelet.  This project is currently a work in progress, but in the meantime, I am beyond grateful for the "service with a smile" that I get at every meal at Vanderbilt.  While at home I might occasionally make myself a bowl of cold cereal for dinner, here, there's the Chef's Table to make me gourmet food any day of the week.  I'm sorry for dwelling on food for so long, but it's just so close to my heart. Ha.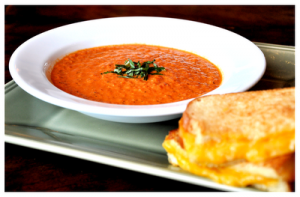 2. You get to live on the same quad with all of your best friends.  The days of "get-home-by-11" and "call me when you get there" are long past, and some of my best conversations happen when I'm doing French homework on the floor or another girl's dorm or watching the Bachelor at 1:30 a.m. with a friend upstairs in Commons.
Yesterday was a gorgeous, sunny day, so a few friends and I started a pick-up soccer game on the Peabody lawn.  When you study, eat, and hang out with the same crazy group of kids all of the time, some pretty interesting things happen.  In the past month, I've been laser tagging, I've made bouncy balls, I've taught a girl to crochet, I've been to a concert, I've seen The Vow, and I've had a Joseph Gordon Levitt movie marathon.  Typical pastimes….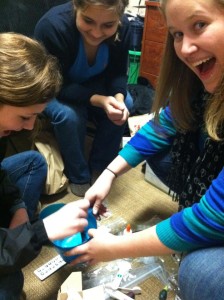 3. You can choose to take classes you're interested in, classes that don't make you fall asleep!  It is so freeing to be able to control of your schedule and take classes like Language Development, Ethics, and Survey of Entrepreneurship.  Bye-bye high school health and P.E. class, hello things I care about!
4. Professors actually want you to succeed.  Maybe this is just my Peabody education talking, but I really feel that my courses attempt to teach me things I can take with me after Vanderbilt.  I've experienced too many classes in my short life so far, so it's a breath of fresh air to be educated by people who want to see me succeed!  My teachers and I are finally on the same side!  Now don't take me wrong, my classes definitely are challenging, but my education does not consist of useless memorized facts that go in one ear and out the other.  My classes are small and everyone participates, so I no longer have to pull all of the weight in group projects or worry about slackers bringing down the class.
5. Vanderbilt makes it easy for you to be a good citizen!  Personally, I think community service is great, especially as a willing and able "young person."  Vanderbilt students are young adults who want to make a difference in their community, so service organizations are abundant and diverse.  As a member of Pencil Projects, Habitat for Humanity, Reach Out and Read, Nashville Mobile Market, and a group that tutors ESL adults at a Nashville Thriftsmart (a little sketchy), I am definitely never short of opportunities to volunteer.
At Vanderbilt, the size, the rigorous academics, the Nashville community, and the social life all just seemed to fit.  Coming from a thriving suburban neighborhood in Texas, most of my friends had set their hearts on big Texas public universities early senior year, but I felt that it would be good for me to take a leap and go to a school out of state, coming in with no friends.  It was not just the beauty of the campus, the draw of the HOD major, or the Southern warmth I felt at Vandy that made it my number one choice. It was the opportunities that would spring from a Vanderbilt education and the doors that would open for me later in life because I picked Vanderbilt.  Coming to Vanderbilt was a huge decision for me, but I feel über confident in saying that Vanderbilt has been the perfect fit for me thus far, and first semester helped me to grow (not physically, unfortunately) more than I thought possible.