It's Tornado Season!
Okay, so I'm not the most knowledgeable person when it comes to tornadoes…but I'm learning a lot today!
I'm currently writing to you from the basement of Branscomb dorm!  My mom has been texting me about the impending doom of this tornado/severe storm for three days straight already.  Although I don't take tornado threats lightly, the weather over the past week has been pretty much 75-80 degrees and sunny without a cloud in the sky!  However, today was different.
There was no rain in the morning.  It was BEAUTIFUL, sunny and humid.  So, after I finished my midterm, I made big plans with my friends for dinner and a fun evening out before we headed off to our spring break destinations. However, it got to be about 3pm and the sky started getting really dark. Then the sirens started.
I've been through a Nashville spring already, so I know how to differentiate between the Davidson and Williamson county sirens and the Vanderbilt one.  I've just never experienced a storm of this magnitude–it's been all over the weather channel and the national news this morning! (My mom watched them talk about it on the Today Show).

Some people actually like to storm watch, so they're staying in their rooms while the winds are still pretty tame and there's no hail.  Nevertheless, I decided to come down to the basement because my good friend is from Kansas and experienced the aftermath of a truly destructive tornado in nearby Joplin, MO.  So, I trust her tornado instincts since this isn't really a common occurrence in Connecticut.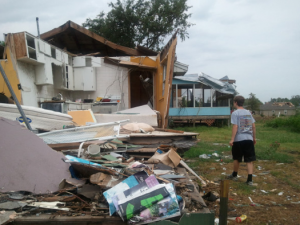 (photo by Holley Lewis)
The siren count was: (4) Davidson County and (3) Vanderbilt campus before the sky just opened up and it started to pour, the wind started up, and hail started to hit my window.  That's about the time I start making my way to the basement.  Branscomb has an entire tunnel system on the bottom floor, so everyone just chilled and waited it out.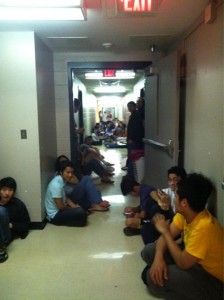 So for the moment the storm is done, there is talk of a second one, but everyone has cleared out and people are allowed to make their way to the airport.  Some rumors I've heard–and I'm pretty sure these are true–either from the news or from friends at the airport who are watching the weather:
There were funnel clouds spotted downtown
The tornado touched down in Belle Meade
Vanderbilt was supposed to be ground zero (aka would have the most damage)
The highway to the airport is closed due to damage and fallen trees
Here's a picture of hail people found outside after the storm: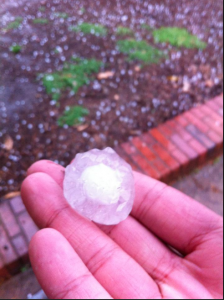 I actually like tornado season…it's exciting, but just like with any severe weather, you have to be careful and make smart decisions.
Example of what NOT to do: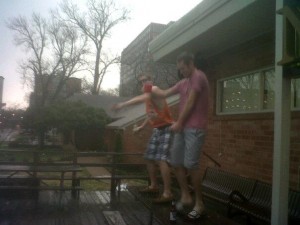 Anyway, I'm going to head off now and do laundry then keep packing…not even a tornado is going to keep me from going home for Spring Break!!!