Derby Days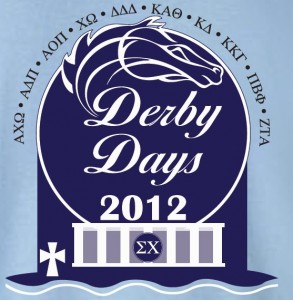 It's that time of year again…Derby Days! Every year, Sigma Chi holds a philanthropic competition between the sororities on campus, donating all the proceeds to the Leukemia and Lymphoma Society (so far the total is above $36,000!).
The main event of the week is the search for the black derby. Basically, there is a black bowler hat hidden somewhere on campus. Each morning at 4:30 am, a clue for the blue derby is released. The blue derbys all have clues that lead to the black derby. On Wednesday morning around 10:30 am, Zeta Tau Alpha, the new sorority on campus, found the black derby hidden in front of the Robinson Research building in the Med Center. Even though the black derby was worth a ton of points, the week isn't over yet.
Yesterday was the dance/lip sync competition at the Sigma Chi house. Not only was there delicious food like Zumi, Qdoba, and Jets, but also awesome judges like VSG president Adam Mayer, John Jenkins, and Jordan Rodgers. I participated in the dance for AOII and we had so much fun in front of such an enthusiastic crowd. We originally tied for first with Tri Delta, but after the dance-off, Tri Delta pulled ahead for first. Of course all the videos are on youtube if you want to check out the fun!
2nd place- AOII (my favorite part is at 3:25)
Today are field games, on Alumni Lawn, like tug-of-war and egg toss. Tomorrow is flag football, at the Rec, which I'm particularly excited for. Every event this week has been a great break from academics and a perfect way to bond not only with our own sisters, but girls from other sororities too.