Mom's Weekend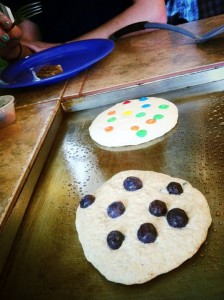 I don't think I ate a single meal on Vanderbilt's campus last weekend, because it was AOII Mom's Weekend! Let me explain:
I had Orgo and Bio tests yesterday (which I think went well!) so I had to study most of Friday, Saturday, and Sunday. My mom and I planned around this by pretty much spending all of our meals together.
Friday night, my study group friends and I took a break and went to Café Coco with my mom.  It. Was. Amazing. We had different pasta dishes, personal pizzas, and multiple desserts. Because we ate dinner so early, the line to order was short and the food arrived really quickly. As if all that delicious food wasn't enough, my mom gave me two boxes of Samoas (which are almost completely gone…).
After studying in the morning, I met my mom at Fido for lunch. It's pretty much tradition to take my parents to Fido at least once every trip, because it (more specifically, my smoked turkey and brie sandwich) never gets old! Later that day, we went to Wildhorse Saloon with a bunch of sisters and learned line dances! I had never been to Wildhorse before but I absolutely loved it, because you got to order your food and then dance while you waited for it.
Afterwards, my mom and I drove back to campus and went to Neely Auditorium to see Twelfth Night performed by Actors from the London Stage. Now, let me first of all say that I've always wanted to see Twelfth Night because She's the Man is based on it, but I was pleasantly surprised by Twelfth Night itself. There were only five actors, who would change their hat and all of a sudden become a different character—not to mention their acting had to make up for the lack of a set. The performance had my mom and I cracking up the whole time (and now I really want to watch She's the Man again).
Lastly, we went to the Pfunky Griddle early Sunday morning. Each table there has a built-in grill and you are served bottomless batter. I chose to add M&Ms to my pancakes while my mom chose more sensible blueberries.
Even though Mom's Weekend wasn't ideal scheduling, I still had enough time to catch up with my mom and try lots of delicious restaurants. Can my mom visit every weekend?