Kathryn Stockett at Vanderbilt
I knew Vanderbilt was amazing at getting entertaining speakers to come to campus, but I couldn't believe they got Kathryn Stockett, the author of the New York Times bestseller, The Help.
Anyone who has read Stockett's first novel, The Help, or even just seen the movie, which came out this year, can tell you that Stockett is a very talented writer.  The storyline of her book is a moving and genuinely enlightening tale about the relationship between African American maids and the white families for whom they work; however, the story of how this book came to be is actually even more as interesting.
Even with the pre-Thanksgiving break rush, I had to make time to attend Kathrynn Stockett's talk on Thursday in the Student Life Center.  My mom and I both read her book religiously this summer, and went to go see the movie on opening night–I loved both and I had to meet her.  (Also, my mom was going to kill me if I didn't get her autograph!)  Luckily, my sorority required that all sisters attend the speaker series as a mandatory education event, so I got a free ticket!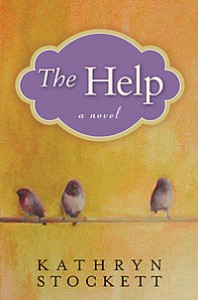 Stockett began her talk by remarking, "Shit, there are a lot of people here!" …That's when I knew that this was going to be a good one.  With her deeply southern, yet perfectly polished accent, she went on to tell us how she began writing her novel shortly after 9/11 in a time when all she could think of was the things she cared for most in her life–namely her childhood maid, Demitri, who died when she was sixteen.  Amazingly, it took her 60 rejected submissions and revisions before The Help was finally published. As a result of the book's success, there was inevitably talk of making a movie, so she boldly sold the movie rights to her life-long best friend, Tate Taylor, a struggling film maker in LA at the time. (And look how well he did!)
I'll leave you with her two pieces of advice when it comes to life.
1) Read as much as you can; read anything and everything.
2) Don't be afraid to follow your dreams and do whatever it takes to do them because even if your parents tell you to consider another path in life, in reality, they'll support you (monetarily, that is) for a lot longer than you think they will!