Eight Days 'Til Nationals!
As a member of the Vanderbilt Women's Club Soccer team here on campus, I'll be leaving early for Thanksgiving Break, and instead of heading straight home, I'll be detouring to Phoenix, Arizona for the club soccer National tournament.
As a team, we've been preparing for Nationals since the beginning of the semester–we've been practicing three times per week and playing games against schools like MTSU, University of Tennessee, and Auburn, among others.  Now that the tournament is imminent and we only have four practices left, we're working our hardest to be in the best possible shape, as individuals and as a team.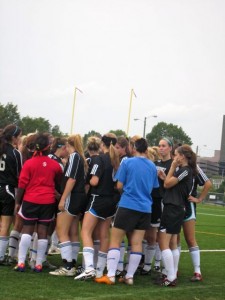 This past weekend, we had our last official game, against Kennesaw State (which we won, by the way, 3-0!).  Our last practices are going to be tough, and we're scrimmaging teams (everyone from the Italian men practicing on the other field to each other) as often as we can.  We want that National Championship!
Because we have to leave early for the tournament, I spoke to all of my professors in September, making sure that it would be alright that I miss class and rescheduling any tests or quizzes that I'd miss.  All of my professors were super understanding and very accommodating, all allowing me to take tests early and letting me know what I'd miss.  The only reason we're able to go to Nationals as a team is that our teachers are willing to accommodate our need to leave early.  Professors at Vanderbilt are very approachable–all you have to do is talk to them, and they'll do their best to help you any way that they can, whether it be rescheduling a test or just getting extra help, which I think is awesome!
All in all, I'm so excited for Phoenix!  Get ready for a lot of soccer updates from Nationals next week!