Too Involved
The day after I swore I would not accept any more leadership positions, I received this email:
"You have been nominated as President of Invisible Children- Vanderbilt. Do you accept?"'
I almost had a panic attack. I have a really hard time saying no, especially to causes I believe in, but I knew I could not accept. That is one of the best and the worst things about Vanderbilt- there are so many amazing causes, and so many organizations on our campus!!
This is my involvement for the upcoming school year:
Relay For Life– Relay For Life is an organization that raises awareness and money for cancer research. I am the Team Mentorship co-chair, which is a new position this year. We are in charge of getting participants involved in fundraising and the event and making sure they understand all of the necessary details as well as the mission of Relay. My co-chair and I will be in charge of the teams and their involvement! Relay is in January!
Kappa Kappa Gamma– I am the New Member Educator, so I am in charge of incorporating the new members into Kappa, in January, and planning Bid Day and other events. I get to live in the house this year- 6 girls do- we are the top officers! I am sooo excited.
Invisible Children– This year, I am the Secretary, officially, because I denied being President and told them I needed a minimal position. I know that I am not going to be satisfied being the Secretary, which is in charge of communicating with other clubs and planning events, and I know I will probably end up as Vice President but for now I am the Secretary. The below picture is my friend and I at an event last fall, Hit The Hate, where we spray painted a car with hate words, such as genocide, and child soldiers. People could pay a dollar to then hit the car with a baseball bat (while wearing protective gear, of course!)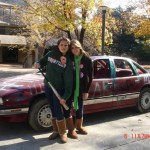 JLearn Society- this is a very new club. I am involved in the Chabad on campus ( I am a Reform Jew, and Chabad is typically Orthodox), because I went on Birthright last summer. Birthright is a program for Jewish kids aged 18-26, that sends us on free trips to Israel, for ten days, to learn about our history. I went on Birthright through Vanderbilt, on a Chabad trip. I met Rabbi Shlomo then, and I now go to the Chabad for many of the religious holidays. It is a comfortable place, and it reminds me of my temple at home. JLearn is going to be a society much like RUF- many of my Christian friends are involved with this. They read the Bible, hold socials, and many other events. We are planning to offer courses to a select group of students, in varying topics about Judaism. I am one of the founding members, so I hope it works out!!
Tour Guide– I absolutely LOVE being a tour guide. It is one of my favorite parts of my week, getting to talk about Vanderbilt and why I love it so much for an hour and a half to people just like you, our readers! We have meetings every so often, and sometimes have guest speakers, like the Dean of the Libraries, to talk to us and keep us updated about new things going on at school.
AmbassaDores: Co-Editor of Blogging- the piece de resistance! I love sharing my stories with y'all. Besides that, I help to edit my fellow blogger's entries, and help plan meetings and the future of our humble little club!
There is an Activities Fair this Friday, August 26… I'll definitely be there, but now the question is which booth will I help promote??