Dining Traditions
My family has a special tradition, that on Sunday nights, we all cook together as a family. We spend a lot of time picking recipes out of our Cooking Light magazines and cookbooks, and make a huge grocery list. It usually takes us about 2 hours to cook, and then we finally eat, and boy, is it worth it. I'd have to say that this is the family tradition that I miss the most while I'm at school, but luckily Vanderbilt has plenty of traditions, especially around food, so I don't miss it as much.
1. There are cooking classes in the Commons- e-mails are sent out to the entire student body, and students can sign up to participate in cooking classes! Tons of e-mails are sent out like this- with opportunities to go to restaurants, plays, and other events around Nashville.
2. The food on campus is aaaamazing. Y'all already know that I am a self-proclaimed foodie, and the food on campus is amazing. Chef James, Grins, Commons, Last Drop Coffee Shop (FROYO!!), the Pub, Rand…don't even get me started on Rand Brunch- all you can eat pancakes, eggs, waffles….and so much more. It is the only time that our dining halls are all you can eat, except for special events, so take advantage of it!!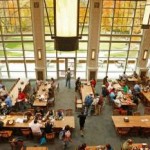 3. The special events for food are amazing. BBQ's in the spring and summer, organic markets held on the Rand Terrace where you can use your meal plan and get local chocolate milk, granola, and jams, Birthday Night in Rand and Commons where you can decorate cupcakes to celebrate birthdays, theme nights such as Ocean's Away with all seafood, and the Rand Christmas Dinner- DO NOT MISS THIS MEAL!!!
4. The food OFF campus is amazing! With the Taste of Nashville program, we can eat all over, using our meal money. This is such a cool way for us to experience Nashville, all while using our meal plan. My favorites are Bread & Co. (I eat there at least 4 times a week), Calypso Café (they have a great salad with beans, and cornbread), Café Coco (AMAZING food, also a great late night spot, it is open 24/7) Pinkberry (new this year on the card!!!! FROYO) and Noshville (New York Delicatessen, SO SO GOOD). Bear in mind that most of the restaurants on the card are within walking distance from campus, and those that are not usually deliver!
5. Do y'all even need anything more ???