Classes
Choosing what classes to take is always hard- there are so many amazing ones. But what I have decided is to major in Human and Organizational Development, in the Leadership track, and double minor in Spanish and Political Science. I transferred to Peabody College last semester, from the College of Arts and Science, so I am now governed by the HOD requirements. I am taking HOD 1800 (insert description), HOD 1400 (insert description), Statistics, Spanish for Economics and Business, and Entrepreneurship.
We have a new enrollment system, which is called Y.E.S. (Your Enrollment Services), where we can put classes in our "Class Cart", and read descriptions of the classes, before we decide to enroll. Enrollment for the fall takes place at the end of April and the beginning of May, and then we have open enrollment starting during the summer, so we can switch classes if we so decide. There is also open enrollment for the first week of classes, so we can decide if we want to stay in our classes or switch into different ones! You can also drop classes until about 2 months into the semester, if you decide they aren't for you!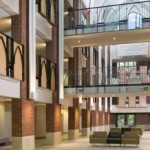 I'm so excited! My schedule is really good too. On Mondays, I have class from 11AM-12PM, and then from 3-6PM. Then I have chapter (sororities and fraternities have "chapter", aka meetings for the entire house, at that time). On Tuesdays, I have three classes in a row from 9:35AM-2:25PM, with a break for lunch in the middle; that is the same on Thursdays. Wednesdays I only have class from 11AM-12PM, and on Fridays, I have class from 10AM-12PM. I have friends in some of my classes, so that is always fun, and then after class I make sure to make some "me" time and go for a run or a free workout class at the Rec before I eat dinner and head to the library or one of my various club meetings!
Do y'all have any questions about the daily lives of Vanderbilt students, or classes?