Let's catch up!
As I've been thrown right back into school after spring break, I've neglected to share a lot of pre-spring break events here! Here are a few things I went to that were awesome–and keep an eye out for my upcoming post on the mission trip I went on over Spring Break!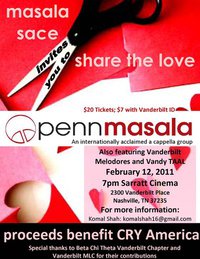 Share the Love Concert:
A few weeks ago, there was a "Share the Love" concert hosted by Masala Sace. The concert featured Penn Masala, an amazing Hindi a capella group from the University of Pennsylvania that has performed all over the world, including at the White House. Also featured were two Vanderbilt a capella groups: Vandy Taal and the Melodores. All the groups performed right in Vanderbilt's own Sarratt Cinema.
Tickets were only $7 for students, and the show was beyond fantastic! Vandy Taal opened up the show, and then Penn Masala came on stage. Throughout the night, Penn Masala sang a variety of songs, ranging from Hindi music to Kanye West covers. They were incredibly energetic and encouraged the audience to dance and sing along. Penn Masala did three sets in total, and I personally was blown away by their enthusiasm and intricate harmonies. They did a lot of familiar songs, but mixed them up in new ways.
The Melodores also performed 3 songs, including their classic "Supermassive Black Hole." Their version of "How Low Can You Go" was absolutely epic and the crowd went crazy.
We here at Vanderbilt love the Melodores, and getting to see them perform, along with Vandy Taal, and the nationally acclaimed Penn Masala was a fantastic opportunity and made for an amazing night of a capella. Plus, all the proceeds went to charity! It was definitely a perfect way to spend a Saturday evening.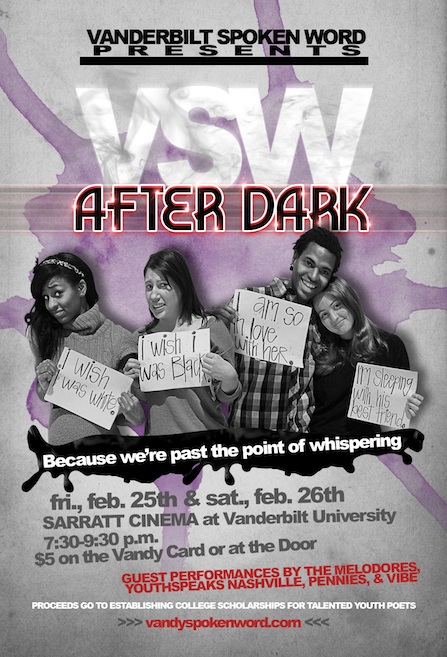 VSW: After Dark
This event was held in Sarratt Cinema as well, and featured a ton of different spoken word performances from Vandy Spoken Word. The show covered a huge variety of topics, ranging from comical to emotional and included a guest performance by someone from Youth Speaks Nashville that was phenomenal. Check out VSW's Youtube channel for teasers of some of the pieces that were in the show!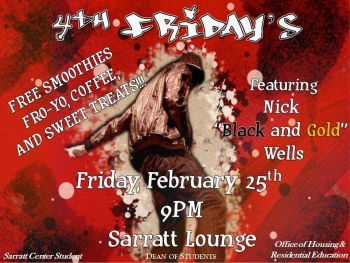 4th Fridays: Nick Wells
Each 4th Friday of the month, the Last Drop Café gives away fro-yo, smoothies, and more and there's a performance in the Sarratt Lounge. Last month, Nick Wells of "Black and Gold" infamy performed. He sang, danced, and gave away mix tapes which made Sarratt Lounge into an awesome place to hang out Friday night. This was my second 4th Fridays that I've been too, and I'm definitely looking forward to future ones.