My 18 Thanksgivings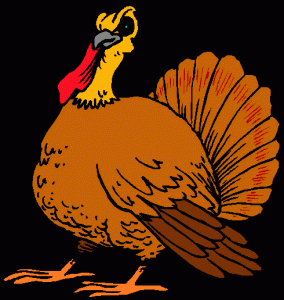 Woah it got cold fast in Nashville! It was 75 last week, and now I'm in a sweater and boots! The Holiday season is among us… It is also the season of eating, eating a lot! During this past week I think I have had, or at least had the opportunity to have about 18 Thanksgiving type dinners. Not only do both dining halls on campus offer full out Thanksgiving meals the week before we all leave campus to go home, but groups on campus will sponsor their own dinners and my neighbors and I had a Thanksgiving meal together two days ago. Read on to get a glimpse at all of the yumminess I have been consuming lately…
At Vanderbilt, we get a whole week off of classes for the Thanksgiving Holiday, so tomorrow the Commons and Rand are hosting dinners complete with turkey, pork, chicken, ham, squash casserole, mashed potatoes (my favorite part!), yams, corn, stuffing, cranberries, pumpkin pie, green beans, and so much more! Everyone is welcome to go to either dining hall and fill up on all of their favorite Thanksgiving scrumptiousness!
AmbassaDores (yep, the group that runs this blog and the tour guide and hosting program) took the Tour Guides out for a delicious dinner at Loveless Café last night to celebrate the end of the year and the Holidays! I think I am still full this morning from everything I ate last night… Loveless isn't as much Thanksgiving food, as it is down home southern comfort cookin', and it is amazing! Since there were about 16 of us, we did it family style and had heaping plates of fried chicken, turkey, mac and cheese, cucumbers, creamed corn, mashed potatoes, and of course their famous rolls brought to the table. Between bites we swapped funny stories from giving tours and talked about what we were all going to do over our break from school. It was great to have such an eclectic group of people that I don't get to spend much time with come together over a great meal!
My first Thanksgiving meal of the season was this past Tuesday at my house here at school. We invited the boys who live next door over for a feast! They were in charge of the turkey, while the girls were in charge of well, everything else! We love those boys, but don't always trust them in the kitchen… The meal ended up tasting absolutely delicious and looked beautiful on our kitchen table. Naturally, being a "Thanks"giving meal, it made me realize just how lucky I am to have the friends that I do here at Vanderbilt. Being a senior, I have known some of these people for four years and have gone through some of the worst, best, most hilarious and most embarrassing moments of my life with them, and yet they are still my best friends and have become my family here at school. I couldn't have made it through without them.
To end this post, I want to wish that all of you reading get to experience a fabulous meal with a group of people that you love in the next week. It's amazing how great food with even better company can make you appreciate everything in life.