Ruida Zeng '22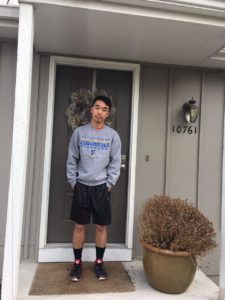 Hello everyone, I'm Ruida Zeng and I am currently a freshman at School of Engineering. I am majoring in computer science and am contemplating a double major in mathematics as well. I am originally from Guangzhou, China but I moved to Stillwater, Oklahoma when I was 12. Prior to coming to Nashville, I have also lived in Missouri for a while.
I am extremely passionate about computer science and spend a majority of time studying it, whether if it's for my CS classes, programming contests, or simply just for fun. To sum it up, I am probably one of the most introverted extroverts you'll ever met. Outside of schoolwork, I am involved with Asian American Christian Fellowship (AACF), Vanderbilt Quiz Bowl, and Math Club. I am also planning on joining the Greek Life communities in the spring (or next fall). Oh, and I play intramural soccer as well. Overall, I am still a newbie on campus and in Nashville and am still trying to "figure everything out" as I go along, which is indeed very exhilarating.
If you have anything you would like to know about life as a freshman computer science major (or life as a freshman in general) at Vandy, don't hesitate to email me at ruida.zeng@vanderbilt.edu and I'll be glad to answer you (I check my email religiously so most likely I'll respond really quickly). Also, do let me know if you enjoy (or don't enjoy likewise) what I am writing so I will know that I'm not just delivering soliloquies to an empty audience.
My recent posts: