Spring Break 2020 Plans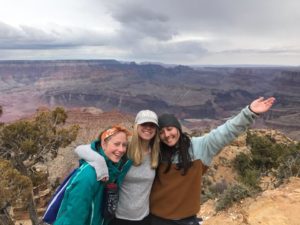 Though this semester has just begun, one thing that is on my radar already is spring break. While there are a couple months between me and break, it is definitely something I'm already looking forward to, as I am a site leader for Vanderbilt's Alternative Spring Break program this year.
What is Alternative Spring Break, or ASB? The program exists on college campuses worldwide, and is an opportunity for college students to engage in meaningful service during their spring break. Alongside service during the break, participants in ASB meet throughout the months leading up to their trip in order to learn about the underlying issues surrounding the cause their service addresses, and participate in a re-orientation program upon returning from spring break to ensure that they can use the lessons they learned on their trip to become active citizens in their community for years to come.
For the past two years, I have participated in ASB. My first year, I went to Glen Canyon, Arizona, to participate in environmental service and learn about the complex number of issues that intersect with environmentalism in the region. Because of how life-changing my experience was, I wanted to lead a trip last year in order to continue exploring service and the ways in which major issues exist as the culmination of a variety of causes. The trip I led last year was to Harvest Farm in Wellington, Colorado, an organization that houses men dealing with substance use disorders and, in many cases, homelessness. While on Harvest Farm, we participated in service as well as learned about the men who live there and how substance abuse and homelessness affected them. This year, I will be going to San Francisco to work with a number of groups serving the homeless population in what is traditionally viewed as a highly affluent area. I am interested to see this contrast in wealth distribution as well as the number of approaches organizations take to combat this issue. I am truly looking forward to this experience and all of the learning it will afford the members of our trip.
Stay tuned for updates on how my spring break in California went! Thanks for reading, and if you have any questions regarding Alternative Spring Break or life at Vanderbilt, feel free to contact me at alex.rains@vanderbilt.edu.