Shortlist of Gratitude
Now that Thanksgiving break has come and gone, and we are in the calm before the storm that is finals season, I want to express some appreciation for things that make life sweet! It's important to not lose sight of the bigger picture that is the wonder of life, even when school becomes a hectic jumble of tests, due dates, and papers. Even though college can be seen as a means to an end, it is also an end in itself, and I try to enjoy every step of the way. Without further ado, here are some things that I appreciate at Vanderbilt that make the college experience all the better:
Smiling faces: This was a big reason I loved the vibe so much at Vandy ever since I first toured the campus as a high school student. People just looked happy to be here, and like nice people in general. I still feel this to be true, whether looking at students, faculty, or staff.
Kind people: This goes hand in hand with the smiling, but it sure is nice when people are nice to one another! This doesn't mean being shallow or fake, but mainly just trusting in people's good intentions and not making assumptions.

At the Multicultural Leadership Council Party with Athleisure theme!

EBI's all you care to eat dining hall: Nuff said
Approachable and encouraging professors: Far from the stereotypical detached professor in their ivory tower, faculty are here for more than just lecturing in class and conducting research. They love talking to students–that's why they have office hours and emails! If there's something you're interested in related to a professor's field, go ahead and talk to them, they'll appreciate you reaching out.
Efforts of environmental sustainability: 2 words=> Climate Change (2050 Carbon neutrality goal!)
Increased cultural awareness, diversity, and inclusion: There are so many cultural things on campus! Students seem to take it for granted but it's awesome that we have come so far as a campus to be more welcoming of various backgrounds, whether it's student groups, performing arts, foods, or other events.
Cool lectures: Last month's guest speakers included Tan France, Al Gore, and Chimamanda Ngozi Adichie. And just tonight I attended a Chancellor's Lecture featuring Steven Pinker, Carl Zimmer, and Amanda Little, with moderator Jon Meacham. It's wonderful that we have so many opportunities to hear from intellectual and cultural leaders of our time, all for free on campus!
Sunny weather: This is definitely a me thing, but when the sky is gloomy I feel gloomy, so I really like it when the sun shines even if it's cold!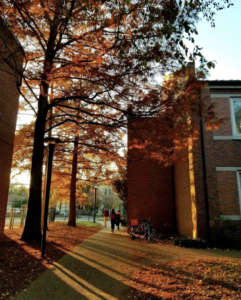 This list ended up being pretty long, but I hope you all can appreciate some of the same things I do! Overall I feel so lucky that I have been able to pursue my education at a place like Vanderbilt. This isn't to say Vandy is perfect by any means, but that we should appreciate the good things :)