Why Vanderbilt? Perspectives from First Generation Students
As a first-generation college applicant, you might be thinking "Why Vanderbilt?". Here are responses from three first generation students describing their experiences on campus and giving some advice to any first-generation applicants. All three of them are executive board members of FirstVU, a student organization that is dedicated to supporting and empowering first generation students on Vandy's campus.
Name: Abigail Forsythe
Class: 2023
Major (Intended): Psychology
Being a first-generation college student at Vanderbilt has been an experience like no other, but I can't recommend choosing this school enough. In the couple of months that I have been here, I have felt so welcomed and cared for by my peers, professors, and other resource providers. I always know that if there is something that I need or a question that I need answered, that someone will be there for me and will be genuinely willing to help. I think one of the greatest resources that Vanderbilt has generated is the VUcept program. Having an older student as a mentor has made my transition so much easier and has introduced me to some pretty awesome people along the way. It's been hard trying to navigate such a new and different part of my life that my parents don't quite understand, but I know that there is no better place for me to be than Vanderbilt. My best advice for prospective first-generation students is to find a school where they know they will be comfortable and cared for as they adjust to college life.
Name: Bitania Endalkachew
Class: 2021
Major(s): Political Science and Women and Gender Studies
Being a first-generation student at college is exciting, but there are some disadvantages. Since it's your first year, along with all the other freshman, your most immediate questions may be taken care of by Vandy faculty or other freshmen. What doesn't come to mind immediately, is how little you know about Greek life or the different resources on campus, or how to organize your classes so that you can prepare for med school, law school or graduate school? What organizations are good career-wise? What can you expect out of Vanderbilt? The best thing to do to find out what you don't know is to talk to other first-generation students. They figured out what they did not know and can set you up to be extremely successful early on. We are also super friendly and want to help as much as we can. There are always offices/staff that are willing to help and meetings you can attend to stock up on information. But being able to talk to someone about the less formal details: what meetings are worth going to, what organizations are active on campus and how do they manifest, and so much more will help you get a better sense of what campus life really is like.
Name: Toby Irenshtain
Class: 2021
Major(s): Child Development and Law, History, and Society
As a first-generation student, I often found the transition from high school to college quite difficult. My parents were unable to guide my experiences as other students' parents could relate to their college experiences, provide insightful advice, and encourage specific actions. At Vanderbilt, however, the community that develops surrounds and motivates each and every student, mitigating the effects of being first-generation. The Commons experience
, for example, ensures that students build friendships within their dorm and with their fellow freshmen. Additionally, second-semester rush allows for a close-knit freshman class to develop outside of the classroom and separate from Greek status. Additionally, Vanderbilt has FirstVU – a premier community that connects, empowers, and provides insights for First-Generation students on campus – which greatly assists with the transition, should you reach out. All in all, the transition can be quite difficult, yet Vandy has acknowledged this and set many actions into place to ensure that they can assist in making the move as seamless as possible.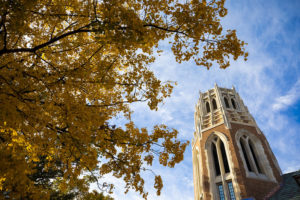 Good luck with applications! Email me at Chidiogo.c.nwakoby@vanderbilt.edu if you have any questions.