What my Sophomore year classes look like
It's a new year I'm very excited about what my classes this semester have in store for me. I will be taking the following classes:
SOC 1020: Contemporary Social Issues (Health and Society)
I was pretty excited to take this class and so far, I'm having a great time. This is a Sociology class that elaborates on social determinants of health. It has been really interesting taking a structured class about issues that have been important to me in the past. The readings are pretty exciting, and I love how engaging our classes are. This also fulfills an MHS (Medicine, Health and Society) requirement. I'm looking forward to the rest of the semester in this class!
SPAN 1100: Elementary Spanish for True Beginners:
. I've never taken one bit of Spanish, so it's been a great experience learning how to converse and say different words and phrases in Spanish. This is actually a Foreign Language Requirement for AXLE but depending on how I feel after fulfilling the requirement, I might continue taking Spanish.
ENGL 1260W: Introduction to Literary and Cultural Analysis- What is an Author?
This is another AXLE requirement— the 1000-level writing course. In this class, we're discussing the concept of authorship and how our sense of them influences how we receive their work. We have talked about how the definition of an author has changed over the centuries and what effects this change has had on contemporary works. This is a discussion-based class and I've loved how we've tied in different issues to understand how author's identities directly and indirectly influence their work. I'm looking forward to understanding more about this topic this semester.
MUSE 1230: African Performing Ensemble
This is probably the most random class I'm taking this semester. I wanted an extra hour and it seemed fun. I have not been disappointed so far. We have class once a week on Mondays from 5:30 p to 7:15 p. This class focuses specifically on Ghanaian (West African) music and traditional dances. We will have a big performance at the end of the semester that will factor into our grade. It's been an energetic and sweaty experience, but I am definitely getting the cardio I need.
BSCI 1510 and BSCI 1510L (Intro to Bio Sciences with Lab)
This has probably been my hardest class so far. I haven't had to memorize a lot of information in a while so at first, I panicked a bit. I've found that studying every day (or at least every 2 days) has helped a lot. I'm planning to transition into studying everyday if I can. My roommate and I have organized weekly study sessions to hash out the material and they have been going great so far.
My schedule is also spaced a lot better than my past two semesters. I have enough time in the afternoon to do some work and rest.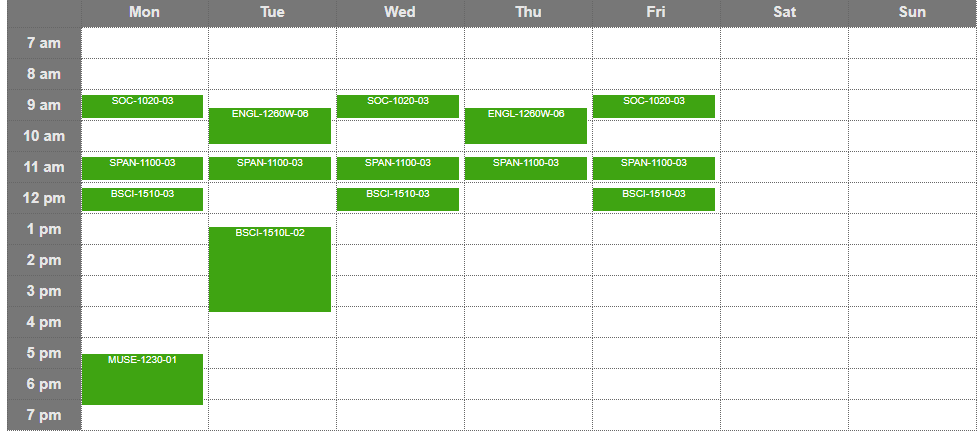 Send me an email at Chidiogo.c.nwakoby@vanderbilt.edu  if you have any questions about any of these classes or my schedule. Good luck with your semester/quarter!