Being Musical at Vandy (Even if You're Not)
If you've read any of my other blogs, you know that I love being in Nashville as much as I love going to Vanderbilt. And a big part of Nashville is music. Even though I'm not musically inclined at all (besides that clarinet I rocked throughout middle school), there's still a ton of opportunities around campus to get involved with music, be it going to shows for some of the amazing music groups here on campus or taking any of the multitude of different music classes Vanderbilt offers. And if you are musical, Vandy also has a ton to offer, even if you're not a Blair School of Music student.
Vanderbilt offers a range of extra-curricular activities that are music related, from a cappella groups, bands, and dance groups. Some of the amazing a cappella groups include Harmonic Notion (co-ed), Melodores (male), Voce (female), and many more! If you play an instrument, Vanderbilt Commodore Orchestra could be the group for you.  And if you can act and sing, definitely check out Vanderbilt Off Broadway or The Original Cast.
For those non-musical souls like me, don't worry. Vanderbilt has an amazing selection of music based classes you can take too. I've made it my own personal goal to take at least one music related course each semester I'm at Vanderbilt. Here's how my quest is going so far:
First Semester of Freshman Year: The first music related class I took at Vandy actually inspired this whole quest. Called the History of Country Music, it was hands down my favorite class first semester. The professor, Peter Cooper, is witty and entertaining, and has tons of amazing stories about country music idols, most of them from personal experience. He's also extremely qualified to teach this class, as he is the Museum Editor for the Country Music Hall of Fame. Even though the class was an hour and fifteen minutes, I was never bored. Even if you're not a huge country fan, the music we listened to was classic, from Dolly Parton to Elvis. And the book for the class, which he wrote, is not a dry, boring textbook, but actually an interesting collection of biographies and personal experiences with some of Nashville's biggest country stars from yesteryear and today. Bonus points if he brings his dog Loretta to class, which he did at least once the semester I took the class.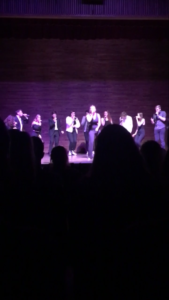 Second Semester of Freshman Year: After my great experience with the History of Country Music class, I decided to try another music class at Vandy. Second semester, I enrolled in The Business of Music. Although the time slot was daunting- a two and a half hour class at 6 o'clock at night once a week- it has been an eye-opening class for me. Professor Porter is extremely knowledgeable on all topics of the music business. From being a drummer in Lynyrd Skynyrd, to running a music publishing company, he's done it all, and is eager to pass that knowledge on to his students. The class itself is not extremely challenging, and the content is super interesting. Before taking this course, I wasn't sure what job I wanted to do in the future. But after taking this course, I am definitely considering a career in the business side of the music industry.
First Semester of Sophomore Year: Although I haven't technically taken the class yet, next semester I'm enrolled in American Popular Music. The course description is as follows: "Historical study of ways the culture of a nation is reflected and sometimes shaped by the chosen musics of the groups comprising the American "salad bowl." Topics include audience reception; production and consumption; multiculturalism; and meaning."
Hopefully I have another great experience with this class!
These are just a few of the musical classes offered at Vandy. There's also songwriting, Survey of Jazz, and many more. Don't forget to check them out during course registration!