The A-Z's of Vanderbilt Part I
Are you interested in taking a sneak peek of Vanderbilt? Here is part one of my glossary, A to F, about areas of study, buildings, student organizations, campus events, and beyond!
Let's begin the tour with my major. The Department of Asian Studies is located in Buttrick Hall. As an interdisciplinary program, Asian Studies at Vanderbilt has a diverse repertoire: Asian languages, English, History, Religious studies, and more. I strongly encourage you to take Asian Studies courses to strengthen your international perspective while fulfilling requirements of AXLE (the core curriculum of College of Arts and Science at Vanderbilt).
Commodores who have taken the introductory astronomy course have heard of this Nashville-born star gazer. A pioneer in celestial photography, the Vanderbilt astronomer discovered Barnard's star, a close neighbor of the Sun. Edward Barnard is memorialized on campus as one hall of the newest residential college was named in his honor.
Calhoun Hall
I have taken three courses in this teaching building. When I arrive early for a class here, reading posters on the boards in the hall is an informative pastime. The building also houses the Department of Economics. You can identify this building by its arch, which contains a mural, and is the site of Acapella Arch in the spring!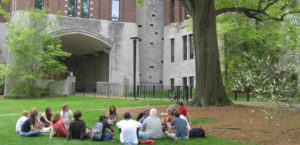 Diwali Showcase
At Vanderbilt, the Diwali program by the South Asian Cultural Exchange is an established performance showcase involving multiple cultural acts: musical performances, drama, and dances. The program celebrates arts and multicultural understanding. Regardless of cultural affiliation it is open to anyone who wants to participate!
E. Bronson Ingram College
Led by a faculty director, this residential college opened in August 2018. The gothic-style buildings house singles, doubles, and suites. Meeting rooms, music practice rooms, rehearsal studios, and so on serve the residents. The E. Bronson Ingram College also has a dining hall, where having breakfast makes my day–it's also the only all-you-can-eat dining hall on campus!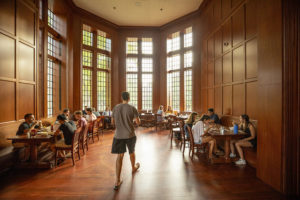 At Vanderbilt, the resources for French language and cultures are abundant. A student may major or minor in French, and take courses at all levels ranging from beginner to advanced. The university has a living learning community for French speakers, such as McTyeire French hall and the weekly Café Français, where French speakers of the Vanderbilt community have conversations and coffee together. Vanderbilt also offers study abroad opportunities in France.
I hope the flashcard-like glossary will be insightful. If you have any questions, please feel free to contact me at xuanxuan.chen@vanderbilt.edu!