A Nashville Night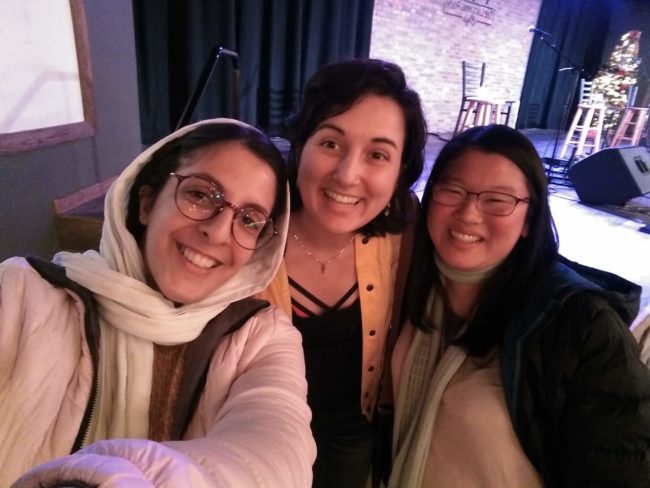 Saturday night, December 15th.
It was around 4 pm, and Leila and I were "hiking" our way up the neighborhood to Love Circle. Leila's my roommate, a Physics & Math transfer student who moved from Iran five years ago. She helps me sometimes on physics; I help her sometimes on graduate school apps. (Yikes). But physics, math, and grad school were so far below us as we continued to hike past houses decorated for Christmas. We made it just in time for the tail end of the sun's last goodbye.
(Wasn't that poetic? Sure. :))
Fifteen minutes later we were jogging down the hill to get to the MTNA ("WeGo") bus to make it to the 6 pm show at the Listening Room Cafe, a cafe and restaurant in downtown Nashville. We were so excited to see a live performance and at that point, we hadn't tasted the amazing prime rib and dry-rub chicken.
Later, we tasted that prime rib, that dry-rub chicken. We left, changed forever.
The show, with three local Nashville musicians, was great. Carolyn, one of my closest friends, had met us a little later on the bus and had ordered the dry-rub chicken to start us off. A few songs in, we ordered the prime rib. And wow, that rib was PRIME.
The show was over around 7:30 and we went to catch the bus. We had a vague idea of either going to hang out at Carolyn's suite in Towers or walking over the Pedestrian Bridge. When the bus stopped near the bridge, we jumped off, and then realized that it was almost 8 pm. And we knew, from Jen (another friend) telling us earlier, that Handel's Messiah was playing at 8 pm at the Schermerhorn Symphony Center. Readers, we were right there. We could see the illuminated columns right across the street.
Somehow, we got last minute $20 seats at the Schermerhorn for Handel's Messiah, which was crazy. After such a long semester, it was so nice to sit in comfy velvety seats and listen to the entirety of the Messiah over two and a half hours, so calming. Later, as we walked down Broadway and listened to the country music all around us, and even later, taking pictures in front of the fireplace at the Union Station hotel, we couldn't help but think: what a wonderful end to a semester. What a Nashville Night.
TIPS:
1. Student tickets to symphony concerts are usually $10 with the code "soundcheck" (If you are on top of your game and actually do things early)
2. The Listening Room Cafe has $10 tickets for the show + a $15 minimum for food and drink. A really good deal!
3. People complain about the bus system a lot, but I've found Google Maps to be v accurate with using it. Sometimes the bus is late and sometimes it is early, but Google Maps always adjusts! The bus system is a great way of getting around Nashville if you're on a budget.