First Day of Senior Year!!!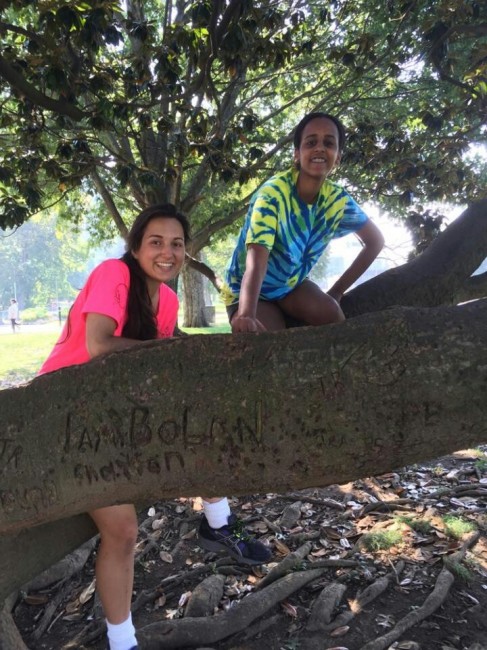 It's senior year it's senior year it's senior year!!!
Wow. WOW.
I can't believe that I've made it this far, that I'm standing in front of the first class of the day: Narrative Medicine and the Doctor-Patient Relationship, a Medicine, Health, & Society class. I'm wanted to be in this class since sophomore year fall semester, but it's only a fall class, and it was full for the past two years. This time, I made it in.
There's been a lot of wrinkles in the past three years. Sometimes bad grades, sometimes bad friendships, but so many good moments too. Good grades, good friendships, travels both good and hard and both. Three weeks ago I was in Malaysia; I've been to three continents in three months. And now, three years have gone and I'm a senior. I'm not going to think about graduation though. That's just too soon. Or too far away. Who knows. (Maybe something with graduation will deal with something with threes. :D ).
After Narrative Medicine I go to a 3000-level Sociology class called Seeing Social Life. The next day is Modern Physics & the Quantum World (Physics 2255) and Transformation Geometry (Math 3000-something). On Thursdays I'll have violin lessons. This interdisciplinary education though. Let no one say that Vanderbilt is constricting.
The first week of classes is always so fun. There's not that much work and so many friends to catch up with. One of my close friends, Carolyn, is back from study abroad in Edinburgh and I can't wait to catch up with her. Jen also got back from study abroad in Vienna — I actually had the chance to stay with her in Vienna! It was amazing. I'll probably write more about that in another post.
I'm also directing the first-year outreach program for University Catholic this semester (Ascend) as well as being president of Sigma Phi Lambda, the Christian sorority. I'm so excited to do both, and to restart my research in SyBBURE, the Searle Undergraduate Research Program, where I conduct research through the Human and Organizational Development Department.
I'm living in a Chaffin, a pretty cool apartment across from the Vanderbilt rec center (the guilt is CLOSE so I'll probably be working out there this semester… probably…) with two double rooms, one bathroom upstairs, and a common room and full kitchen. I can't wait for the chance to not be in a Mayfield (one common room, ten singles, what an experience). My roomies across the hall are a Special Ed major and a BME major (both juniors), and my roomie is a Physics & Math transfer student who came from Iran five years ago. Leila is wonderful and I can't wait to get to know her better.
Senior year, first semester. Here. We. GO.
If you haven't met me before, I'm Sophie! I'm a premed math major with a minor in violin performance from Dallas, Texas. I'm currently in the application process to graduate schools in Community Psychology, and I hope to be a palliative care physician-scientist one day (let's just throw med school in the mix, why don't we?) Between struggling between studying wallpaper patterns in the math major and doing all the Christian ministry (University Catholic & Sigma Phi Lambda, the Christian sorority!), I'm currently studying for the MCAT and hopefully answering YOUR emails! So email away! sophia.druffner@vanderbilt.edu