5 Things You Definitely Should Pack for College
Surprisingly, there's now only one week left until Move-In Day 2018! I am excited, but of course, anxious for everything that the new school year will have in store. If you are an incoming First-Year student, I'm sure that you have checked every single packing list on the Internet to prepare for the year ahead. To help with your packing, here are five things that you should pack for your first year that many students often forget!
Blackout curtains
The sun in Nashville rises at about 6AM every morning until the late fall. If you don't want the sun to wake you up early, then I definitely suggest getting blackout curtains or regular curtains for your window. You can find the dimensions for the windows in all rooms on campus here on Vandy's website!
Business casual clothes
Even though business casual clothes are not the most stylish, you will need them for at least one occasion while attending Vanderbilt. Some classes have formal final presentations that will require you to dress nicely. Also, if you plan on shadowing a professional or interviewing for an on-campus job, you will have to look the part! Invest in one or two sets of dress pants/skirts and a blazer.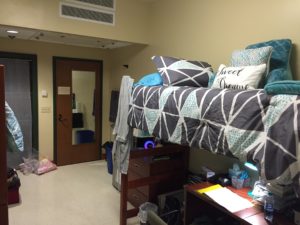 Rain boots
When it rains, it pours… Even when it rains, class is not canceled. There are numerous puddles on campus when it rains, and nothing is worse than walking to class in soaked shoes. Try to find a good pair of rain boots before traveling to campus. Your feet will thank you for it!
Step stool
The shelves in the closets are pretty high on Commons, especially if you're like me and only just above five feet tall. Also, if your bed is lofted to maximize the space in your dorm, then a small stool will be helpful for climbing onto your bed. In addition, with hanging the previously mentioned curtains, you'll definitely need a boost to reach the top of the window.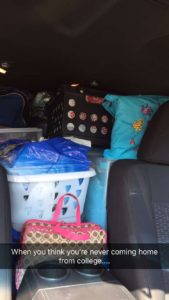 Portable phone charger
Life at Vanderbilt is extremely busy between classes, student organizations, and various on-campus performances/activities. Since you will constantly be on-the-go, a portable charger is essential. No one wants to be stuck next to an outlet during the middle of an event. Portable chargers are pretty inexpensive and a must-have!
I hope this list of forgotten essentials helps you with your own personal packing list. Of course, if you have any questions about items that you may or may not need to pack for your first year, or if you simply have questions about Move-In Day, don't hesitate to email me at ashli.alexander@vanderbilt.edu! Can't wait to see you on campus!