Into the Wild
Two weekends ago, I fulfilled the long-awaited bucket list item of going backpacking. Since arriving to Vanderbilt three years ago, I have wanted to take advantage of the wonderful camping and hiking spots that are in the Nashville vicinity. But between Vanderbilt's vibrant campus life and the seemingly never-ending homework assignments, I never carved out time to check this off the list. Cue one of my friends inviting me to go on a weekend trip with her and Vanderbilt's Outdoor Recreation Center (ORC) to fulfill this desire!
Camping had traditionally been my family's first choice for a summer "vacation." As a native New Englander, summer was never complete without roasting some s'mores around the campfire and waking from inside a tent to adventure on numerous hikes. Backpacking was the next level for me – I wanted the challenge to both fit everything I needed in one single bag, and to carry it for miles and miles!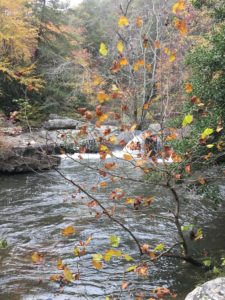 At first I was nervous because I didn't have all of (actually, *any of*) the equipment to bring on this trip. No legitimate backpack, no headlight, no sleeping bag…I figured I would be the first one to get eaten by the ravaging bears of the Tennessee wilderness. But fear not, the Outdoor Rec has all of these items available for rent, in addition to much more. Whether you are going on an ORC-led trip, or venturing off on your own, as a Vanderbilt student or community member you are able to rent equipment for a night, a weekend, or for a 10-day period. This is a unique and wonderful program we can take advantage of!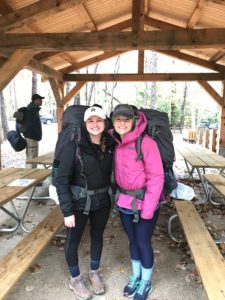 About 10 people had signed up for this specific backpacking trip to the Stone Door at Savage Gulf State Natural Area. Our crew included Vanderbilt undergraduates, a post-doc, a pre-school teacher at the Kennedy Center on campus, and three ORC trip leaders (the key to guide us to our backpacking glory). The cost of the trip includes food, transportation, and all of the legwork to plan the excursion.
We left around 9am on Saturday and hiked about 5 miles once we got to the trails. The next day, we hiked 3 miles round-trip to a waterfall, before putting our packs back on and hiking about 4 more miles to the beginning of the camp. We feasted on chicken curry and rice, s'mores, and plenty of other snacks in between! Though when we woke up on Saturday it was hailing, the company and conversation throughout the trip was worth bearing the cold. Though I had signed up for the trip with a friend, I was blessed to have other friends from many other parts of my community at Vanderbilt accompany me on the trail. I had the opportunity to catch up with a friend from my semester-long project in the HOD major's Small Group Behavior class, a friend from Alternative Spring Break my sophomore year, and, most impressively, one of the students in my old Transfer Orientation group led the trip! It was exciting to see how he had found his place on campus and was thriving, working for the Outdoor Rec and leading these adventure trips.
Though it was about a 36-hour turnaround, it was wonderful to ground myself with nature and explore other areas of Tennessee! If you want to see the most up-to-date adventure trip schedule, check out the Outdoor Rec's website. They also do trips during all of our breaks (summer, spring, fall, AND winter!). Adventure awaits!